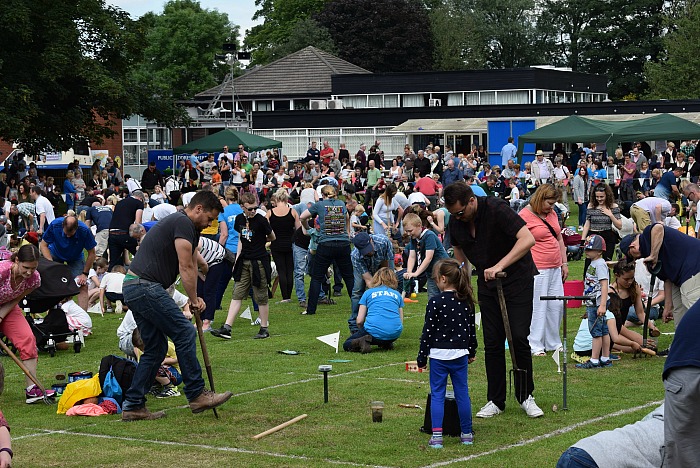 Worm charmers employed a range of tactics as they battled it out in the 37th World Worm Charming Championships in Nantwich.
And Willaston youngster Hope Smith came out on top by luring out 272 worms in 30 minutes.
Hope won the Championship Trophy, following in her sister Sophie's footsteps, who won back in 2009.
Hope, a Year 5 pupil at Willaston Primary Academy, was competing in her sixth championship.
She said: "I am really happy to win."
Sophie won seven years ago with a world record 567 worms, so the family are clearly talented worm charmers.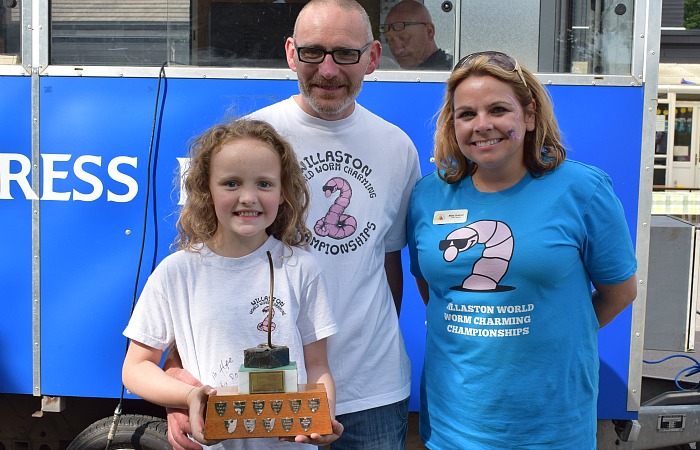 Plots were inspected by the International Federation of Charming Worms and Allied Pastimes (IFCWAP) before the competition kicked off.
Participants in each of the 144 plots had 30 minutes to collect as many worms as possible from their 3×3 metre plot.
There were 'traditional' plots for two adults and two children and 'tag-team' plots for teams who wished to change their pairings throughout the charming period.
Techniques included vibrating a garden fork, whacking a tennis racquet and jumping up and down.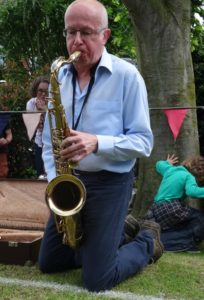 Musical accompaniments were also used, including a saxophonist, a guitarist, a tambourine player and a drummer!
A World Worm Charming Championship certificate was awarded to official groundsman Winston Higham, from Stoke-on-Trent.
The Chief Wormer's trophy was won by Mrs West for 31 years of worming. She has also been a teacher at Willaston Primary Academy for 31 years.
Most Promising Newcomer Award was won by the Fischer family, originally from Germany, in plot 7 with an impressive debut of 136 worms.
The Heaviest Worm trophy was won by Luke and Ashton in plot 22 with 4.79 grams.
Second place for the Most Worms trophy went to the Whiting family in plot 87 with 234 worms and third place went to last year's winners The Caravan Club in plot 132 with 230 worms.
The Championship also included representatives from Holland, the Philippines, and India.
Event organiser Mike Forster thanked all volunteers and visitors for their support.
The event included singing from The Funky Choir and Willaston Primary Academy Junior Choir, dancing by the X Academy of PerformingArts, and a performance from Cheshire Gymnastics.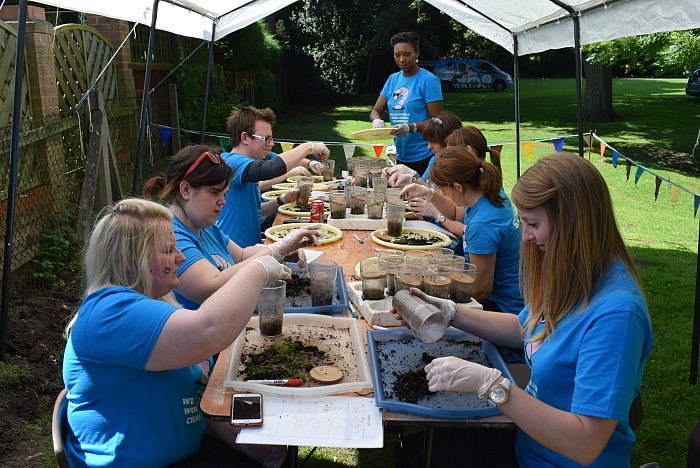 There were charity stalls, an inflatable slide and food and drink outlets.
Charities represented included Cystic Fibrosis, Willaston Neighbourhood Plan, Cancer Research UK, Crewe and South Cheshire Voluntary Group of Diabetes UK, Keep Britain Tidy (Recycle Now) as well as Willaston Primary Academy.
The main sponsor was UHY Hacker Young chartered accountants.
(Words and pictures by Jonathan White)