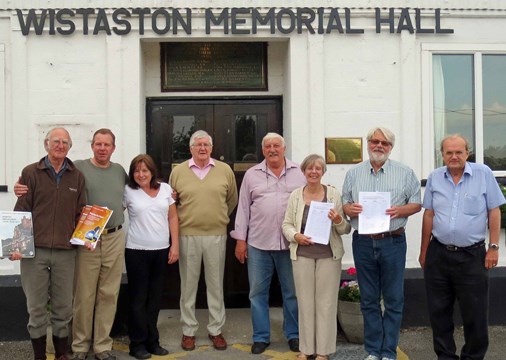 Community leaders in Wistaston are calling for council chiefs to challenge a Government decision to allow 300 homes on Witters Field.
The Secretary of State's decision to allow Gladman Developments to build on the popular green fields off Church Lane has left many angry.
Villagers have used the area for generations to walk dogs and other recreational activities.
Borough councillors, Parish Councillors, action group Hands off Wistaston (pictured) and many residents have campaigned for years to stop the land being developed.
Cllr Margaret Simon, who represents Wistaston on Cheshire East Council, said: "We are all bitterly disappointed with this news.
"It's the last thing we all wanted to hear after having to work hard to fight off two separate applications and appeals on this site.
"We still continue to support our residents' battle to save this field.
"I have asked the council to review the decision carefully to consider whether or not there are any grounds for further challenge of this decision in the courts."
Hands off Wistaston spokesman Peter Wainwright added: "It has been a long hard fight to try to save Witters Field.
"This field means so much to so many local residents and so it is devastating to learn that the Secretary of State, Sajid Javid MP, has not supported us."
Wistaston Cllr Jacquie Weatherill said: "This is dreadful news, allowing this housing scheme to go ahead will destroy the effectiveness of the green gap in Wistaston.
"It is very sad that our case has not been supported.
"Let's hope that there is a way for us to challenge the decision."
Cllr Ainsley Arnold, Cheshire East Council Cabinet member for housing and planning, said: "We will continue to support our local communities and the protection of our countryside and will be seeking further legal advice regarding the Secretary of State's decision."