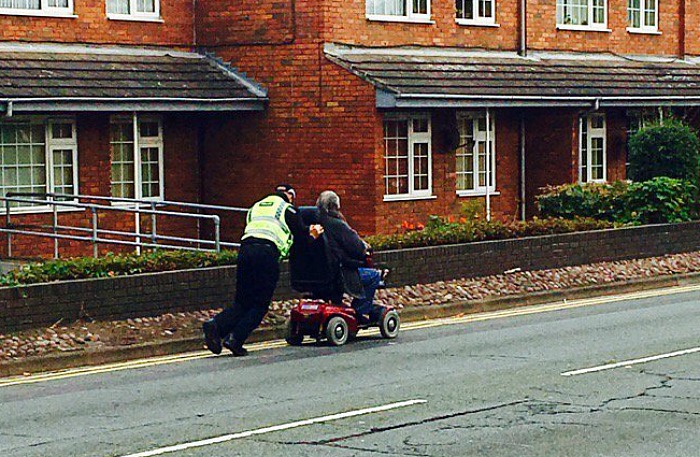 A big-hearted Nantwich police officer showed true community spirit – by pushing a broken down mobility scooter a mile home in the rain.
Students raised the alarm when they saw the elderly man stranded on his scooter in the middle of Beam Street.
PC Marc Harley and other officers were training Community Speedwatch volunteers at the time.
So without further delay, the community bobby flexed his muscles and begin the long push all the way to the pensioner's home.
His efforts were applauded by scores of people who saw the pictures on social media today and shared it to a wide audience.
One tweeted: "Well done PC Harley! What a star!"
And another added: "Great community policing! Well done that man."
A Nantwich Police spokesperson said: "We were just about to start training the Community Speedwatch volunteers outside the station when a couple of Reaseheath students ran to officers saying they were concerned for an elderly male.
"PC Harley went to assist, and despite the brakes being locked, managed to push him home before the heavy rain arrived!
"We really want to be part of the community, hopefully insights like this show our public we're the good guys.
"PC Harley was doing what we hope anyone would. Plus, it was raining so no time to think of alternative options.
"It's a great way for a community officer to engage with their public and be as involved as they can.
"Thankfully he's a strong lad – he needed to be, after he pushed half the way with the handbrake on!"
The pensioner's scooter problems were put down to a faulty battery.
"PC Harley ensure it was on charge and working before he left," added the spokesperson.
(pic courtesy of @PoliceNantwich)