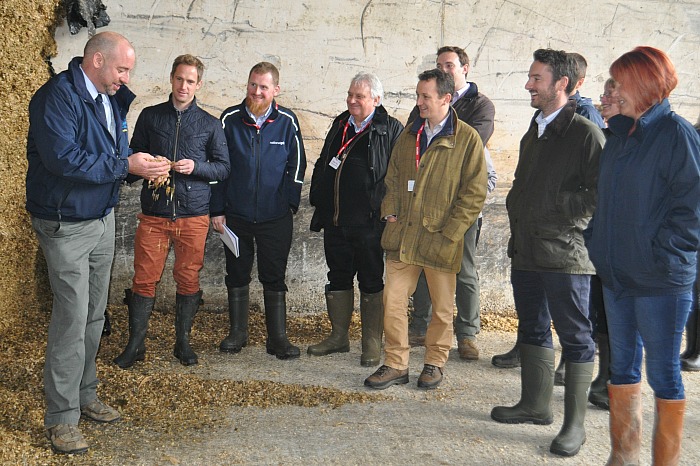 Reaseheath College's agriculture department is working with Chartered Surveyors Dalcour Maclaren to deliver training to one of the company's key clients.
Ten land officers from National Grid joined representatives from Dalcour Maclaren for a day at the Nantwich college's farm studying modern agriculture, reinstatement and compensation.
The group looked at animal and crop production systems and the impact utility projects could have on turnover and scheduling.
They also visited Reaseheath's 300 cow dairy operation, commercial pig unit and anaerobic digester.
National Grid delegate James Dean said: "Dalcour Maclaren and Reaseheath College delivered an excellent learning opportunity which enabled National Grid's land officers to fully understand the challenges currently facing the agricultural industry.
"It is vital our staff are kept well informed and up-to-date, given the ongoing changes being experienced throughout the industry.
"The training day provided a valuable reminder of the unique issues faced by the agricultural industry and how National Grid as a company need to be mindful of these when dealing with farmers.
"It was also an excellent opportunity for us to understand some of the wider work being delivered by Dalcour Maclaren on behalf of the National Grid, and the services the company can offer to help deliver our projects."
Dalcour Maclaren acts exclusively for the utility and infrastructure sector.
One of its nationwide offices is at Crewe Hall, near to Reaseheath's Nantwich campus.
Chartered surveyor Andrew Barker, who helped organise the event, said: "At Dalcour Maclaren we go to great lengths to support training of our graduates and qualified surveyors.
"By working with Reaseheath, we have been able to take our training focus to the next level.
"We have been able to pass on skills and knowledge to National Grid's frontline staff as well as to our own employees.
"Hopefully this greater understanding will help teams when they talk to landowners and managers about projects which will directly affect them.
"We hope our new partnership with Reaseheath will enable us to arrange further bespoke training days which suit the needs of both our own company and those of our clients."
For more information about client CPD with Dalcour Maclaren email [email protected]
(pic: Dalcour Maclaren and National Grid delegates discuss the harvesting of crops with lecturer James Bickerton)