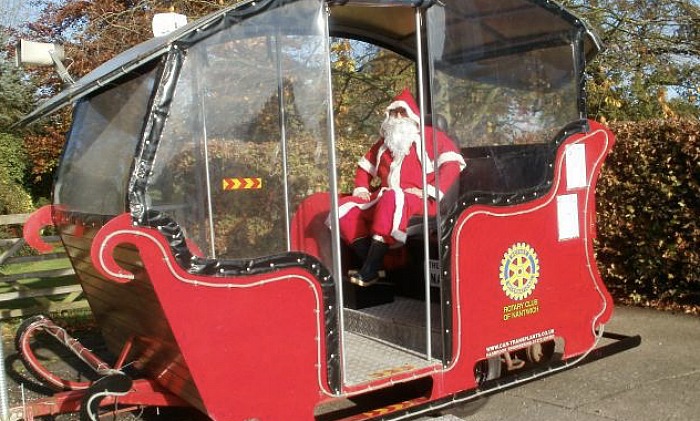 The Nantwich Rotary Christmas Sleigh with Santa on board will be making its annual visit to the streets of Nantwich soon.
The Sleigh's fund-raising journey will cover 3,000 houses from December 5 to December 19.
This year they hope to top the £4,500 raised last year for local causes.
Excited youngsters and parents can catch a glimpse and visit Father Christmas at the following locations from 5.30pm onwards.
Queens Drive and Malbank Waters Monday 5th
Manor Road Tuesday 6th
Wellington Road Wednesday 7th
Shrewbridge Road Thursday 8th
Cronkinson Farm Estate Monday 12th and Tuesday 13th
Queens Drive and Salt Meadows Wednesday 14th
Stapeley Estate Thursday 15th
Salt Meadows and Kingsley Fields Monday 19th
There will also be a number of daytime appearances in Nantwich town centre:
Marks & Spencer Friday 9th 10am-6pm
Market Square Thursday 15th 10am-4pm
Aldi Friday 16th 10am-6pm
Market Square Saturday 17th 10am-4pm
Rotary President Christine Crowe said: "Last year the residents of Nantwich generously gave nearly £4,500.
"From this donations were made to St Luke's Hospice, Nantwich Museum, Donna Louise Hospice, Wingate and it also helped fund activities carried out by the club in the local area."
This year, charities which will benefit from this year's collection include St Luke's Hospice, Nantwich Museum, Nantwich Museum Dementia Group, and Alzheimer's Society.