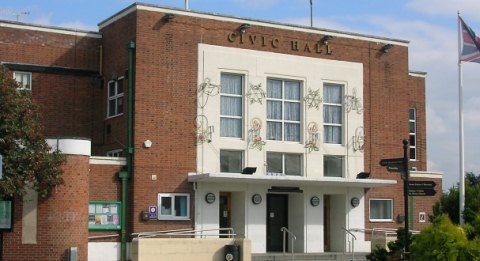 Plans have been unveiled to extend Nantwich Civic Hall – including a glass overhead walkway linking to the library next door.
Nantwich Town Council, which now owns the hall, hopes the £1.2 million two-storey rear extension to the Civic Hall will provide a range of benefits to the community.
And here (pictured below) is the first architect's drawing of what the new rear of the Civic Hall will look like once the work is complete.
Benefits of the extension include securing the future of the Civic Hall as a community building fit for purpose and to increase letting income to reduce operating costs.
It will provide extra accommodation for community groups such as the Senior Citizens Luncheon Club.

And it will provide an up-to-date venue for groups and activities arising from the Community Hub concept.
The council hopes they will be able to stage more shows and concerts.
And it will allow the building to be operated in part or in combination with the library if required.
A Nantwich Town Council spokesman said: "Development of the two-storey extension will provide a more pleasing aspect to the western side of the open space between the Civic Hall, Library and Marks and Spencer store.
"It will improve the public realm by contributing to a sense of enclosure within this open space thus helping to bring together the public buildings grouped in the immediate area into a more cohesive whole.
"The street scene and the views into the conservation area from Beam Street will be enhanced."
The plan will also offer additional facilities including a bigger stage, multi-functional space for various purposes including access to the rear of stage, a green room for the stage, large meeting room, dining room, council meeting room, small cinema / theatre, improved dressing rooms, new toilets, and a reception area.
The link to the library from the first floor will allow the building to be used in association with or as an extension to the library if required.
The cost of the revamp will be met from sale of The Gables on Beam Street, borrowing and capital receipts.
The town council will also need to acquire part of the car park at the rear of the Civic Hall from Cheshire East Council.
It's hoped tendering for the work will begin in Spring 2017.
Plans are now with Cheshire East Council and a decision is likely to be made around January 9.
(Design image by Bower Edleston Architects)