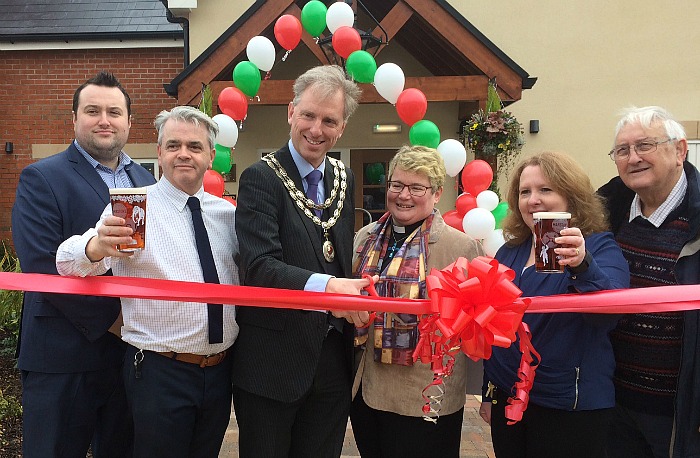 Guests, dignitaries and a church minister raised glasses at the official opening of a new Nantwich pub!
The Sacred Orchard, on Middlewich Road, was unveiled by the Mayor of Nantwich Cllr Andrew Martin at a ceremony today (February 6).
Staff, bosses of Marston's, and special guests witnessed the ribbon-cutting as the £4 million outlet opened its doors.
And Methodist Minister Rev Den Harding was also on hand to break with tradition – and give it her blessing!
Rev Harding, who covers Willaston, Shavington and Rope Green parishes, said: "May your food keep us in a joyful mood.
"Bless the cooks and all who serve us. From indigestion, Lord preserve us!"
The minister said it was important to be at the opening as the site has such historical significance – as well as providing a great community focal point.
It is built on land that was once a sacred religious meeting place almost 1,00o years ago.
And to add to the historical flavour, Marston's brought an original 1937 beer delivery wagon to the opening from its headquarters in Burton-upon-Trent.
Paul and Justine Brady, landlord and landlady of the new pub, were joined by Marston's Area Operations Manager Ioan Eyton-Jones.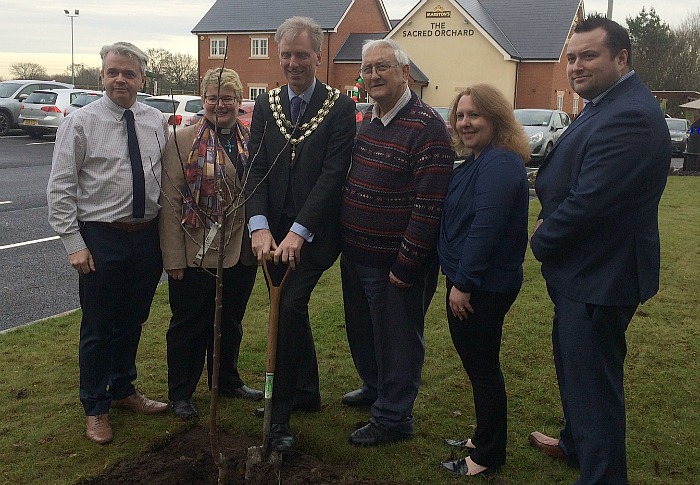 Also there was Frank Auty, a tree expert who was brought in by Paul and Justine to help plan out their orchard.
Frank planted the first of around 35 apple trees in the pub's grounds during the opening ceremony.
Justine said: "Frank was the tree warden we got to know in Chester and we knew he'd be perfect choice to help us create our orchard.
"He's retired now but there's nothing he doesn't know about trees so we're delighted he's helping us."
The pub is a specialist Rotisserie with a varied menu, free wi-fi, indoor and outdoor areas, and welcomes dogs in one part of the bar.
It is also staging a variety of events, with more details at www.sacredorchardnantwich.co.uk