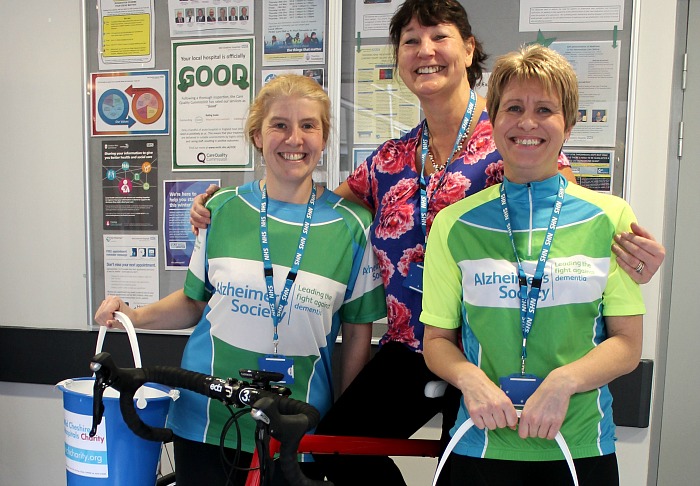 Hospital staff in South Cheshire took part in the 'Ride to Remember' and helped raise more than £360 for a dementia-friendly garden.
Trust staff at Leighton Hospital, Victoria Infirmary, and Elmhurst Intermediate Care Centre cycled on a stationary bike for 10 minutes.
It is thought three people develop dementia in the UK every 10 minutes.
Eighty-five staff took part covering a total distance of 219 miles – the equivalent distance of cycling from Crewe to the Cotswolds and back.
The £364.63 raised will go towards the garden connected to Ward 4 at Leighton Hospital.
Bobby Sharma, Mid Cheshire Hospitals Foundation Trust occupational health service manager at Leighton Hospital, said: "The health benefits of cycling are numerous, including burning calories, elevating mood and kick-starting the metabolism.
"So it was also a great team building event."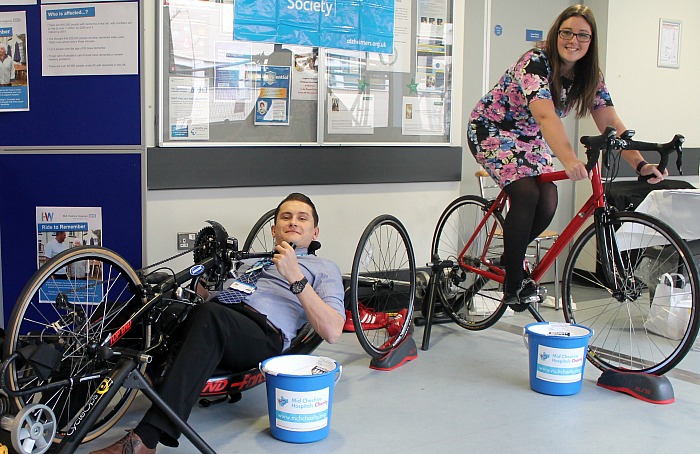 Laura Riddle, MCHFT charity manager, added: "We are very grateful to the Health & Wellbeing Team for choosing to hold this event in support of the dementia-friendly garden and raise awareness of the appeal."
The landscaped garden aims to provide a calm and peaceful environment for older patients and those with cognitive impairment.
The Alzheimer's Society states 225,000 people develop the condition every year, which equates to one person every three minutes.
The total number of people with dementia in the UK is a staggering 850,000 people, which is set to soar to two million by 2051.
Representatives from Alzheimer's Society, Dementia Reablement Team and Dementia Action Alliance attended the event to speak with patients, visitors and staff.
Anyone wanting to support the Dementia Appeal either by organising or participating in fundraising events or to donate money can find our more at www.mchcharity.org