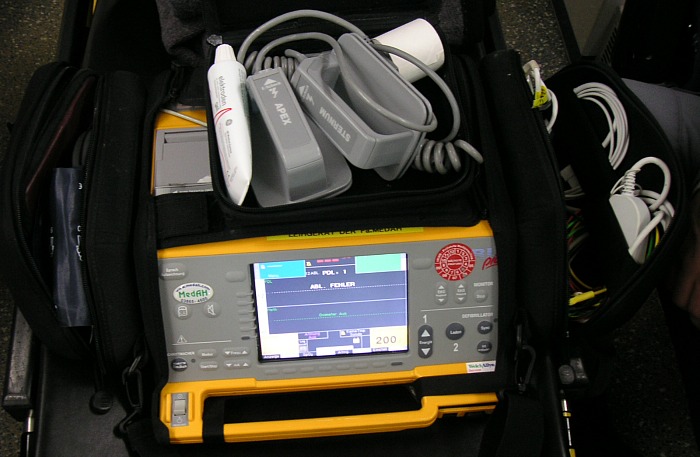 Nantwich Elim Church and the Regents Park Business Centre is to become a community of lifesavers.
The site off London Road has been fitted with a public access defibrillator (PAD) and awarded a CPR training kit by the British Heart Foundation (BHF).
Nantwich Elim Church raised more than £200 to part-fund the life saving machine.
It received the Call Push Rescue training kit following a successful application for a Nation of Lifesavers Community Package from the charity.
The Community Package contains the innovative kit which includes everything needed to learn CPR in half an hour.
Nantwich Elim Church will run training sessions at the Regents Park site in April so everyone can become potential lifesavers.
Rev Michelle Nunn, senior pastor at Nantwich Elim Church, said: "We are delighted to have raised enough money to help fund this lifesaving package.
"The defibrillator will be placed at Regents Park meaning that local people have the best chance of survival should they suffer a cardiac arrest.
"We're keen to get as many people as possible trained in CPR too.
"Our thanks to the British Heart Foundation for supplying the equipment and training pack, and to FKB electrical for installing the unit free of charge."
The defibrillator is a portable device that can be used by a member of the public to help restart the heart when someone has a cardiac arrest.
For every minute that passes without defibrillation and CPR, chances of survival decrease by 10 per cent.
More than 30,000 cardiac arrests happen out of hospital in the UK every year but less than one in 10 survive.
The BHF wants to create a nation of lifesavers to improve the shocking survival rates.
The charity believes defibrillators should be made more accessible and recognisable to the public and want all young people to be taught CPR and PAD awareness at school.
Sara Askew, head of survival at the BHF, said: "More lives could be saved if more defibrillators were available in public places and if more people felt confident using them and performing CPR.
"We are delighted Nantwich Elim Church have joined the BHF's Nation of Lifesavers campaign – by making another defibrillator available in Nantwich and teaching CPR locally.
"It could really be the difference between life and death."
To find out more about defibrillators and how to place one in your organisation or community visit www.bhf.org.uk