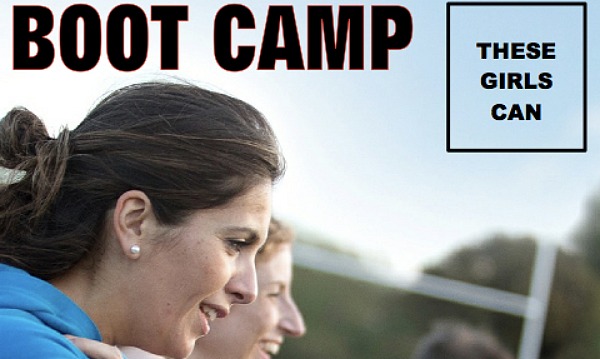 Crewe and Nantwich RUFC's successful ladies team is spearheading a new 'Boot Camp' to help women get fit.
The initiative targets women over 18 years old, and also provides a free 'kids' club' for children over the age of five.
Coaches and players from the club will be running the ten week fitness 'Boot Camp' designed specifically for women.
The emphasis is fun and friendship, and sessions will focus on the strength, stamina and conditioning elements found in many sports including rugby.
The sessions will be run by Georgie and India Perris-Redding, experienced athletes who have represented England at Touch Rugby as well as playing for the ladies' team.
They are experienced personal trainers, and will be supported by Mollie Latham and Phoebe Jay.
The sessions will run every Saturday for 10 weeks from June 24 and cost £3 per session, or £25 for the complete programme.
They run from 10am – 11.15am at Crewe Vagrants Club just outside Nantwich.
The free 'Kids' Club' will be run by DBS-checked friends and family of the club all with experience of working with children.
Georgie Perris-Redding said: "India and I are very excited about the Boot Camp.
"Many of our friends and teammates have found participation in fitness activity to be hugely beneficial to both their mental and physical well-being.
"We are really confident this programme will give women the catalyst they need to pursue an active lifestyle – and it will be great fun!"
Matt Baty, CNRUFC Ladies' Coach, said: "This will be a fantastic community venture which will give both mums and their children the opportunity to have an active Saturday morning and the chance to learn new skills and make new friends.
"We're fully behind it and can't wait to get stuck in!"
To register, contact Mollie Latham on 07710 263213.
You can join the Facebook page "Crewe and Nantwich Ladies Fitness Camp" and follow on Twitter Handle: #superpower.