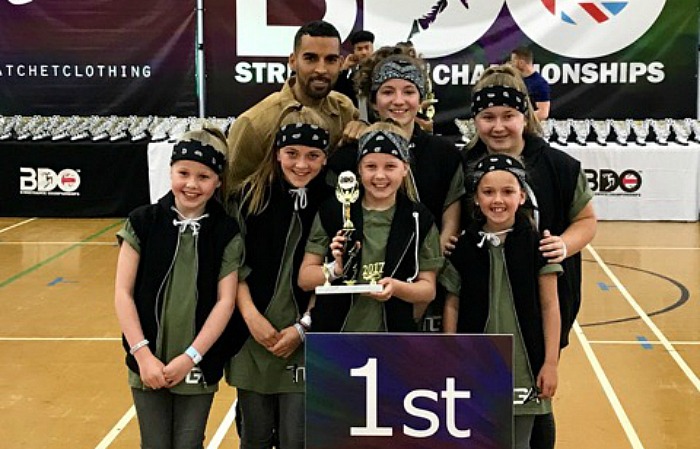 Talented street dancers from South Cheshire scooped seven awards at the British Dance Organisation (BDO) Championships.
Six dancers from The Glasheen Academy (TGA) in Crewe entered the Street Dance Championships, competing against more than 300 dancers from across the West Midlands.
And TGA Street Dance was 1st in four categories – 12 years and Under (team); 12 years and Under (solo) Kya Glasheen; 14 years and Under (duo) Kya Glasheen and Yasmin Redican; and 12 years and Under (duo) Keira Percival and Sophie Manning.
Dance teacher Michaela Marchionne prepared the six girls for the North West Street Dance Championship which took place at Fenton Manor Sports Complex.
A panel of professional dancers judged the competition, with TGA ranking in the top five over eight areas.
The dances were judged on choreography, movement, variety, execution, synchronicity and precision with timing.
Street Dance is a very modern type of dance which is often seen as a form of expression and escapism for participants.
Choreographer and TGA Street Dance teacher Michaela Marchionne said: "I'm so proud of how well the girls performed in this competition.
"They gave it their all and fully deserved the fantastic positions that they were placed.
"They have only been street dancing for just under a year and so to have done so well, this early on is a real achievement."
Sandbach High School pupil Kya said: "I was so happy when I made it through to the second round on the day and then to be named in the top category was so exciting.
"When my name was read out as the winner of the whole category it was like a dream come true.
"The whole competition was brilliant.
"Winning the team category was also so exciting and see so many of the other girls from TGA doing so well was so rewarding."
TGA Streetdance was also ranked 3rd in three more categories:
– 14 years and Under – Solo (Yasmin Redican)
– 8 years and Under – Solo (Lexi Belle Percival)
– 10 years and Under – DUOS (Milly Manning and Lexi Belle Percival)
TGA Street Dance sessions are held in Nantwich and Crewe.
To find out more about classes, contact The Glasheen Academy on 0800 035 1507 or email [email protected]