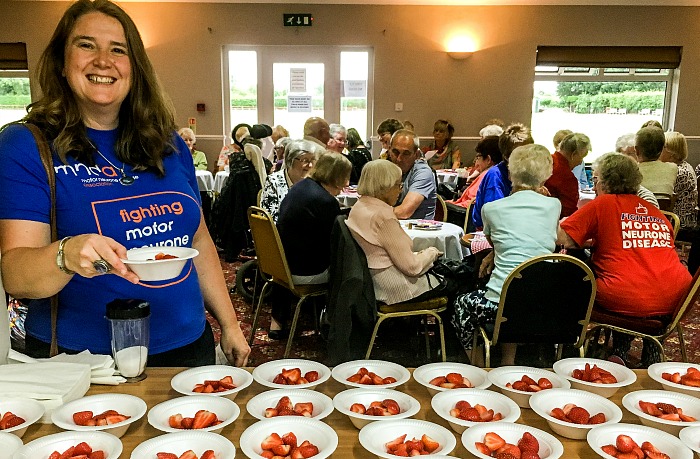 Organisers of a Nantwich charity event are celebrating sweet success after raising more than £1,600 at a popular Strawberry Evening.
The event was held at Nantwich Cricket Club off Whitehouse Lane to raise vital funds for the Cheshire branch of the MND Association.
Eighty guests enjoyed a host of activities along with the strawberries and cream.
Entertainment was provided by local musicians Acoustic Duo who performed free of charge, while a raffle, quiz, auction and pick a cork competition raised more funds on the night.
Prizes were donated by local businesses including Rodney Densem wines, Chrissie's handbags, Inside Paradise gift shop, Residence bar and restaurant, Foundations women's boutique, Theresa Ice Cream Parlour, Cafe de Paris, Pillory House Cafe, Grapevine Gifts and Skin Health Spa.
Santander Bank is also due to match some of the funds raised.
Shones Milk gave the cream while Waitrose donated strawberries, and the cricket club gave the venue for free.
Pauline Medovnikov, one of the main organisers with her mum Vera Davies and sister Andrea, said the evening was a great success.
Pauline (pictured above) said: "The reason we started doing this is because our Dad, John Davies, very sadly died of MND in 1988 at the age of just 59.
"At that time, MND was barely heard of.
"It took a long time for him to be diagnosed correctly so we wanted to create greater awareness of this horrible disease for which there is still no known cure.
"We also wanted to fundraise in appreciation for the help we received from MNDA."
Joan Park, another of the organisers, added: "I want to help people with MND to have as good a life as possible, and I also want to give support to their carers."
Leonie Steventon, fundraiser at the Cheshire branch of the MND Association, added: "What a fantastic evening.
"Everyone had a wonderful time whilst raising much-needed funds to support the Association's work in the Cheshire area.
"It's only thanks to events like this that we're able to be there for local people facing MND and their families, providing practical, financial and emotional support."