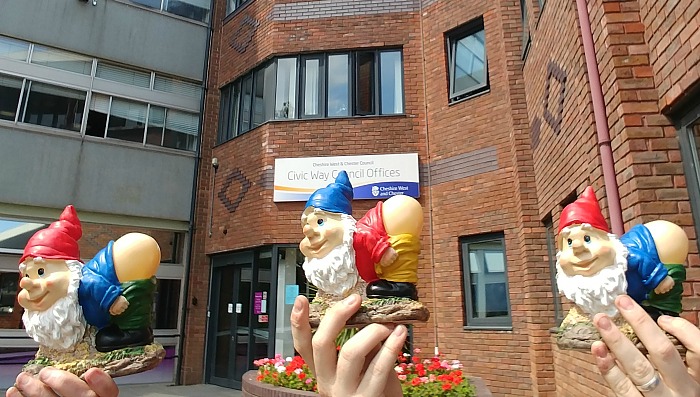 Gardening fans across the UK have launched a campaign to save Wistaston's mooning gnomes after the village rumpus hit national headlines.
Thousands of readers have clamoured for a Cheshire East Council climb-down after it demanded gardener Laurence Perry remove his two gnomes baring their bottoms.
B&M Stores say they have been inundated with customers, mooning gnomes have sold out across the UK, and pictures of gnomes outside council buildings are being posted on social media.
We revealed this week how Laurence, 77, had sparked a real rumpus by placing two of the trouser-less gnomes on grass verges he has helped revive and decorate.
One resident complained to Cheshire East Council, who sent a letter to retired Laurence demanding they be moved within seven days as they pose a road safety danger.
But now thousands of customers of B&M Bargains, where Laurence's daughter bought the troublesome ornaments, are calling for the council to back down and keep the gnomes in their rightful place.
A petition has already gathered nearly 200 signatures!
They have sent their own pictures of their gnomes, placing them outside council buildings!
B&M has also sent Laurence some vouchers to help buy more gnomes and to fund his gardening activities around the village.
A spokeswoman for B&M Stores, which sells a staggering 40,000 mooning gnomes every year, told Nantwichnews: "Someone's started a petition to get them reinstated.
"There's a link on our Facebook page – our fans our outraged.
"We're sending Laurence some vouchers to help towards his gnomes and the gardening area him and the other volunteers look after in the village.
"The petition now has more than 100 signatures so will be put to the council members.
"We've also been sent some pictures from customers who are putting gnomes outside council buildings across the country in protest."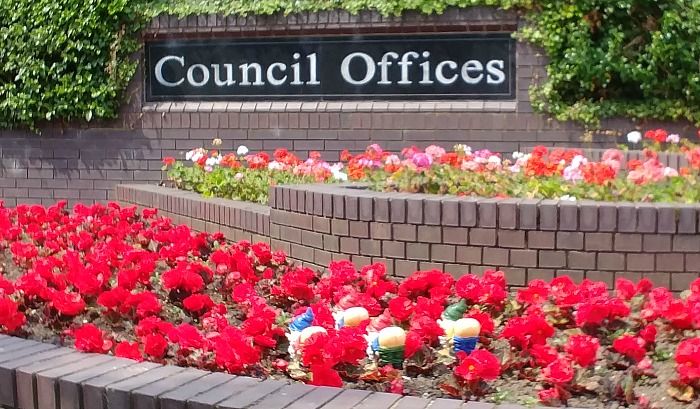 Ange Hamilton, who launched the petition, accused the council of being "busybodies".
"The bare-faced cheek of it – these little chaps were just meant to brighten up people's day.
"If you go into any B&M store you'll see shelves full of them – I for one think they should be reinstated!
"Sign the petition to return the mooning gnomes to Laurence's lawn."
Laurence (pictured, below), who regularly shops at the B&M Stores gardening centre in Nantwich, is taking all the publicity in his stride.
"I think it's brilliant! It's all a bit of fun, and it's amazing how these things escalate.
"It's very good of B&M to send some vouchers, but I think they've had some great publicity!
"They told me they had sold out of gnomes off all the shelves, and even the supply warehouses had run out."
Angela Parry, Laurence's daughter-in-law, said the publicity was great.
"Laurence is loving it, and we must thanks B&M for their support," she added.