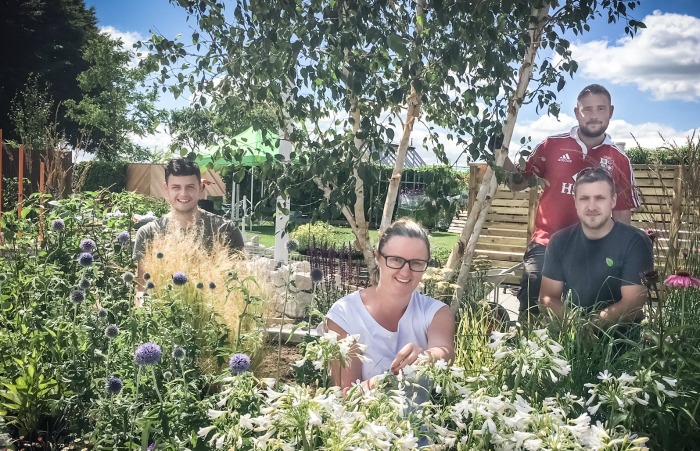 A special educational needs garden designed and built by Reaseheath College students in Nantwich has found a new home in the Lake District.
The 'From a Different Angle' garden, which wowed visitors at the RHS Flower Show Tatton Park and won a silver medal, will be relocated to Sandside Lodge, in Ulverston as part of a new school being built.
Sandside Lodge is a special school for pupils aged between two and 19.
All pupils have learning difficulties and have additional and complex needs such as autism, physical disabilities and sensory impairment.
Many are keen gardeners and help to care for the school's allotment and gardens.
Reaseheath students Dave Cutler, Claire Gouhoury, Graham Fradley, Liz Rees-Graham, Joe Latham, Annie Rhoden-Farmer, Chris Shore and Adam Taylor were led by lecturer Craig Bailey and supported by Reaseheath's horticultural department.
The garden features raised beds, sensory planting including a chamomile lawn, and a shaded seating area.
Colour therapy was used throughout, particularly the use of orange which encourages socialisation, increases contentment and stimulates mental activity.
Team member Adam Taylor said: "Seeing this project evolve from the initial consultation with Seddon Construction and Sandside Lodge through to the design stage and then seeing the garden come to life at a prestigious show like RHS Tatton Park has been a really challenging and exciting experience.
"It's amazing to see our show garden here among so many other fantastic designs."
Sandside Lodge pupil Sean Wilson, one of four learners who visited RHS Flower Show Tatton Park to see the exhibit, said: "I love gardening and I'm really looking forward to being in the garden when it's built at our new school."
Ed Wootton, regional director of Seddon Construction, said: "We were delighted to work in partnership with a leading specialist college such as Reaseheath to produce a garden which is built for purpose and will hopefully continue to deliver pleasure to pupils at the new Sandside Lodge for many years to come."
Meanwhile, Reaseheath lecturer Craig Bailey achieved his own coveted gold medal and the title of 'Best Blooming Border' when he exhibited as a designer at RHS Flower Show.
His garden 'Equality Rising' celebrated the growing acceptance of Britain's LGBT+ community and was inspired by the 50th anniversary of decriminalisation of homosexuality in England.
Sarah Cook, RHS judge and Chair of the Judging Panel, said: "This was an extremely well executed theme with a clear message and good explanation.
"The gold medal and 'Best Blooming Border' title were very well deserved."
Craig (pictured, below) said: "I was absolutely delighted to receive such a high accolade from the RHS."