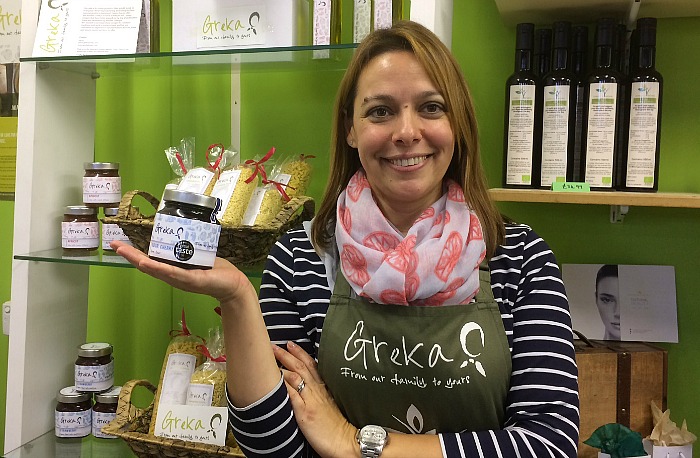 A Nantwich woman who ditched her HR job to launch her dream Greek food business has won a national award – less than 12 months later!
Greece-born Sofia Modiati launched Greka Foods with her husband Ian in September last year, with the aim of bringing a taste of the Mediterranean to South Cheshire.
Now she's running a successful enterprise in Nantwich indoor market, and her authentic Greek products are being sold in major farm outlets across the region.
And success tastes even sweeter for Sofia after one of her products – Sour Cherry preserve – earned a 1 Star honour in the prestigious Guild of Fine Foods awards.
Sofia, 40, who lives in Stapeley with Ian, is amazed at the success.
She believes the secret is in the produce – the spoon sweets, sauces, jams and pastas are all made in Greece from home-grown produce by her mother Georgia, and brother, Fotis.
She said: "It was always my passion to create the best products from Greece and share them with people here – recipes that have been passed down by my grandmother.
"Everything is made in Greece by my family and we import it here.
"So we a local supplier based in Nantwich, which we are really proud of."
Sofia joined forces with Living Pure Natural, another small business run by a Greek family in Nantwich, so they could share the indoor market space.
"It was a total coincidence meeting Aris!" Sofia added.
"I was in the market buying fish, went to his stall and we got talking. We share the same philosophy, using natural products from our home country.
"We came up with the idea to share space on the stall, and it's working brilliantly."
Sofia, who studied International Relations at Staffordshire University when she first moved to England in 1999, also praised Nantwich residents and those further afield who have taken her products to their hearts.
"Everyone has been fantastic and amazing.
"When the owners of Cheerbrook tasted it, they loved it and said they wanted to sell our products."
As well as Cheerbrook, Sofia's products now sell like hotcakes at Hollies near Tarporley, Lambing Shed in Knutsford, and Battlefield 1403 in Shrewsbury.
Another feather in the cap is a recent nomination as Best Newcomer in this year's Nantwich Food Awards, run as part of the Nantwich Food Festival.
"We were part of the festival last year and we will be again this time around.
"I'm so happy to be nominated, and hopefully lots of people will vote for us," she added.
Now Sofia's ambitions are even greater, as she strives to make Greka Foods a household brand across the UK.
"Yes, we want to grow the business.
"No one starts a new venture to stay small. I want to make us a household name."
To vote for Greka Foods in Nantwich Food Awards, visit www.nantwichfoodfestival.co.uk/nantwich-food-awards-voting/ by closing date of September 9.
Greka Foods stall is open at Nantwich Indoor Market every Tuesday, Thursday and Saturday.