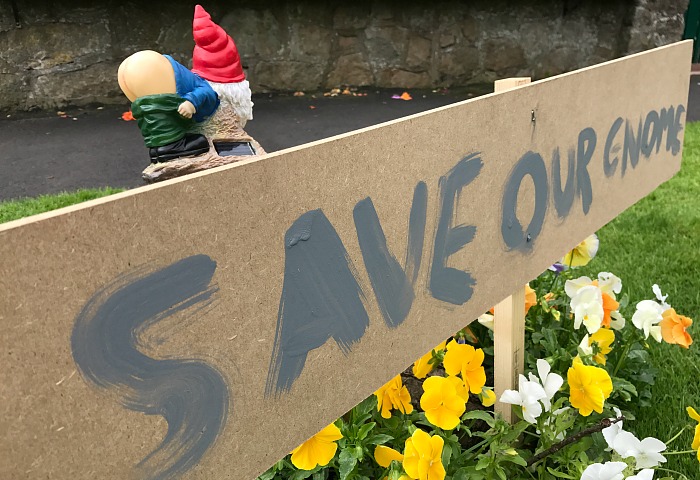 Cheeky mooning gnomes who have been entertaining Wistaston folk for two months have finally been removed by party-pooper highway chiefs.
Pensioner Laurence Perry's two bare-bottomed garden characters hit the headlines when they caused a village rumpus back in July.
Laurence, 77, placed one outside his home and another at the junction of Westfield Drive/Park Drive in flower borders he has helped cultivate.
But some failed to see the funny side and contacted Cheshire East Council.
They issued an order demanding Laurence remove them, and our exclusive story made headlines around the globe.
Cheshire East claimed because the mooning gnomes light up at night, it could distract passing motorists and cause a safety hazard.
A 'Save Our Gnome' sign was erected outside Laurence's home, and when he moved one to a new position in the flowers he hoped it would resolve the dispute.
"The one at the junction I moved a few feet back into the flower bed, but you could still see him.
"I didn't move the one outside my house. Everyone loves him, they come and have their photos taken, and beep their horns as they drive by!
"It's been great fun for the village, and turned them into real celebrities."
But Cheshire East didn't quite see the funny side.
A Cheshire East Council spokesman said: "We have previously received a complaint about these items, and due to their position within the public highway, we have a duty to address these concerns.
"A request was made for the ornaments to be relocated off the highway verge.
"That has not taken place, so arrangements were made to move them.
"We aim to act in the interests of all in our local communities, and we hope members of the public understand why this action has been taken.
"The gnomes have not roamed. They are now in a temporary gnome home, where they are cared for, and will be reunited with their owner."
A family member for Laurence said: "Watch this space, it will soon be Christmas. The gnomes have got a plan."