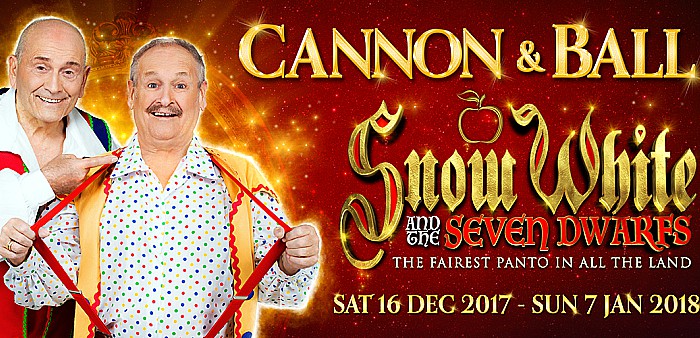 Comedy legends Cannon and Ball have returned to Crewe Lyceum in this year's pantomime Snow White and the Seven Dwarfs – and what a fantastic return it was, writes Claire Faulkner.
The show was brilliant, and judging by the atmosphere and volume of audience participation, everyone there on the opening night had a great time.
Directed by David Fleeshman, this is a fun-filled show, produced to a high standard with a talented cast and crew.
It has everything you could want from a panto.
Outrageous costumes, music, dancing, laughter, more laughter and then, just when you think you've stopped laughing, it makes you laugh even more.
Tommy Cannon and Bobby Ball were brilliantly funny playing The Henchmen.
And if I had to pick one of my favourite parts of the show, it would be when they're playing table tennis together. Comic genius.
Also returning to The Lyceum was Malcolm Lord, who was fabulous as the dame.
If you've got tickets and will be going to see the show, watch out for the scene when The Henchmen and the Dame perform a joke about plucking a pheasant.
It's cleverly written, but I can also imagine it took time to get absolutely perfect to perform in front of a family audience.
Hollie Swain is wonderful as Snow White and has a beautiful singing voice.
Jenny Gayner is suitably evil as Queen Lucretia and Carl Douglas plays a great Prince Callum of Crewe.
If you want to see a classic panto comedy this Christmas, you won't be disappointed by this show.
I enjoyed it so much I've booked to see it again.
Oh yes I have.
Rock on, Tommy.
For details and to check availability visit www.crewelyceum.co.uk