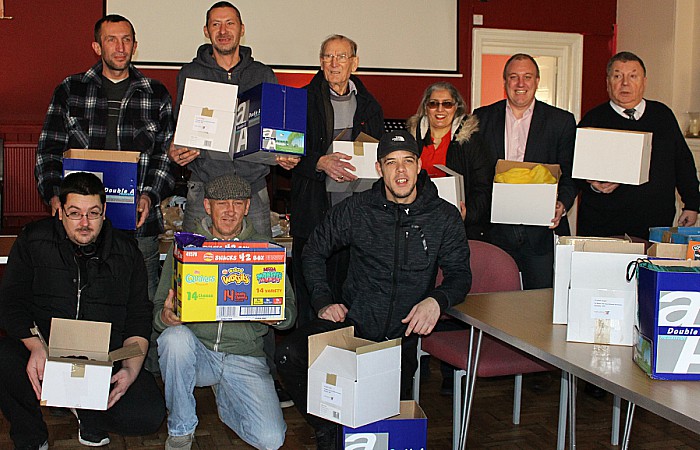 Staff at Crystal Legal Services hand delivered more than 32 gift boxes to the homeless in Crewe and Nantwich.
The donation was made to service users at the LATH Group, at the Lighthouse Centre on Stewart Street, Crewe.
The Crystal Legal Services team held an internal collection which resulted in 362 items being donated to the cause.
CEO of Crystal Legal Services Tony Shields said: "We were delighted to be able to present LATH with so many gift boxes this year.
"The Crystal team has done a fantastic job collecting so many items and we really hope that it goes some way to helping the homeless over the festive period."
The LATH Group is on a mission to ease the plight of the homeless in Crewe and Nantwich.
The charity operates a drop-in centre every Tuesday and Thursday from 10am to 2pm, offering food and drink, advice and assistance, and practical support.
Chair of LATH Bernard Potter said: "We think it's amazing the people at Crystal Legal are aware of the problems with homelessness in Crewe and they've responded so generously with all these boxes of goodies.
"Subsequent to the visit of Crystal Legal staff, gift boxes were distributed to clients there, who were most appreciative of this Christmassy demonstration of goodwill."
Crystal Legal rallied the troops and split the office off into four groups.
Each team had a category to collect for.
These were: Hygiene (toothbrushes, toothpaste, shampoo/conditioner, Vaseline/lip balm and hand cream), Keep Warm (hats, scarves, gloves, socks, hand warmers), Hunger (sachets of: soup, hot chocolate, tea/coffee, noodles and instant made/non-perishables), and Night Time (plasters/pocket tissues, alcohol free antiseptic cream, ear plugs, eye masks and mini torches).
Items from each category were divided into boxes to make a complete kit and the team who collected the most in their category was rewarded.
The admin department collected an impressive 93 items.