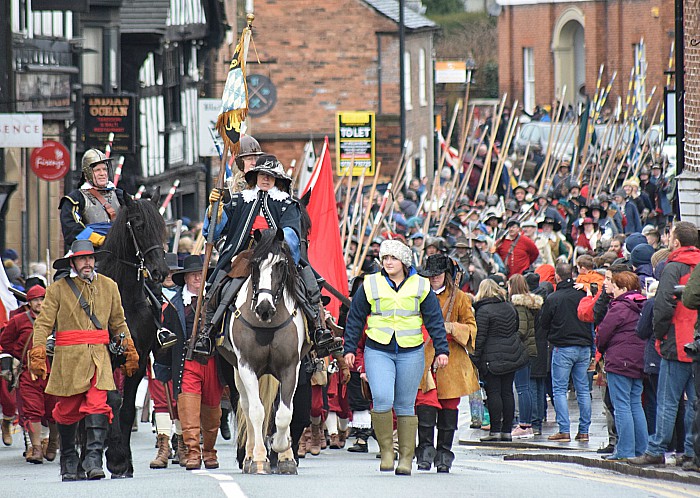 Thousands of people gathered to enjoy the 44th annual Battle of Nantwich & Winter Fayre in and around Nantwich and Mill Island, writes Jonathan White.
The event, organised by the Holly Holy Day Society,  saw hundreds of Sealed Knot troops re-enact the infamous battle of 1644.
Holly Holy Day traces back to the 17th century and the four-year English Civil War between the Parliamentarians (Roundheads) and the Royalists (Cavaliers) loyal to Charles I.
This year is the 374th anniversary of the original battle, which took place on January 25, 1644.
A variety of activities took place during the day at St Mary's Church in Acton, St Mary's Church Nantwich, Nantwich Bookshop & Coffee Lounge, Nantwich Museum, Pillory Street, and the town square, along with a parade from Malbank School and the battle re-enactment on Mill Island.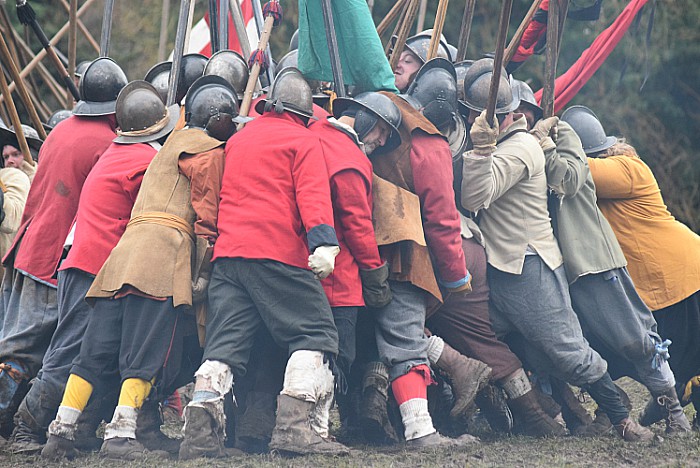 There was live entertainment on the RedShift Stage on the town square and inside St Mary's Church from Sinead D'abreu-Hayling, Nantwich Young Voices, Tim Lee, and Nantwich Players Theatre.
Paul Boniface, from RedShift community radio, was the compere with assistance from other RedShift members.
Nantwich Museum held a musketry demonstration by Sealed Knot, Civil War exhibitions, 17th century music from Forlorne Hope and led Civil War Tours.
Other activities included Plough Witches, Mollies, Doomsday Morris Dancers, street entertainers, and a hog roast, along with a Living History demonstration adjacent to St Mary's Church.
There was a cavalry-led parade of several hundred Sealed Knot troops from Malbank School along Welsh Row into the town centre.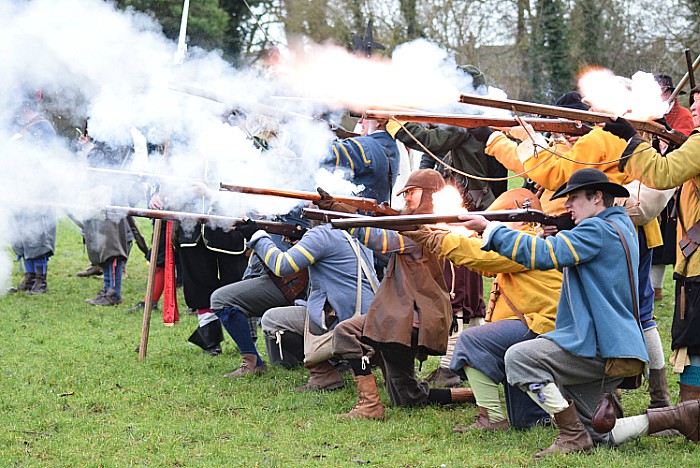 This was followed by a wreath-laying ceremony at the war memorial on the town square to commemorate people who died in the Civil War Battle of Nantwich and other battles and an inspection of troops.
The troops then paraded to Mill Island to re-enact the 1644 battle.
During the battle drummers banged their orders, pikes clattered, cannons boomed, muskets exploded and swords clanged.
There was a running commentary with plentiful historical information and an insight into the techniques deployed on the battlefield.
Following the re-enactment, Mayor of Nantwich Cllr Peggy Butterill presented the Rose Bowl to the best regiment which this year was won by Prince Rupert's Blew Regiment of Foote.
Applewood Independent were the main sponsor of the event for the fourth year.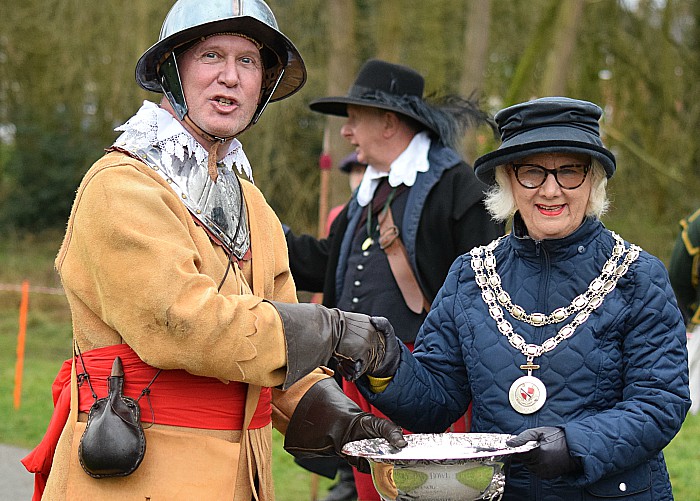 Nantwich Bookshop & Coffee Lounge organised their 5th annual Holly Holy Day English Civil War book authors evening the day before the battle.
This year the popular event took place at the Methodist Church in Hospital Street, with more than 100 people attending.
Authors were also present for book signings at Nantwich Bookshop & Coffee Lounge on the day of the battle.
Nantwich Bookshop & Coffee Lounge owners Steve and Denise Lawson said: "Our new and improved format at the Methodist Church proved to be a resounding success.
"We hope everyone enjoyed the evening."
(pics by Jonathan White)