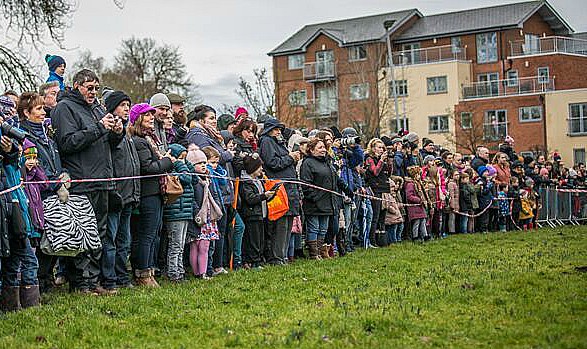 A family has appealed for help to trace a 'priceless' engagement ring believed lost during the Battle of Nantwich re-enactment on Saturday.
Cath and Rod Cameron were watching the annual spectacle on Mill Island in Nantwich with their five-year-old grandson when Cath noticed her ring had come off her finger.
The ring is 42 years old and they say is "priceless" in its sentimental value.
They are now offering a reward for its return.
Cath, a retired headteacher of St Anne's Catholic Primary in Nantwich, believes it may have been dislodged as she picked her grandson up to get a better view of the Holly Holy Day battle played out by the Sealed Knot soldiers at around 2pm on Saturday (January 27).
"They attend the Battle every year, and now my son is five they've started to take him along," said the couple's son James, who is running the appeal to trace the ring.
"She thinks it might have come off when she was picking him/putting him down.
"They say they were on the side of the road, looking over the river towards the 'island', opposite the new block of flats behind Residence.
"It is their engagement ring from 42 years ago.
"It is a blue sapphire with diamonds around it.
"It's obviously worth a fair bit, but sentimentally it's priceless, so there will be a substantial reward.
"If anyone sees it, or if any local jewellers can look out for it in case someone brings it in."
Anyone who finds the ring is urged to hand it in to police, or contact James on 07875 057172.
(Pic of onlookers during Battle of Nantwich, by Nantwich Events Photography)