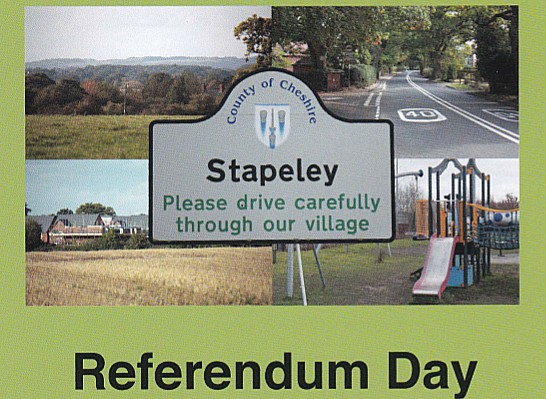 Residents in Stapeley have a chance to vote this week on whether the parish's Neighbourhood Plan should be adopted.
The vote, which takes place this Thursday February 15 gives residents an opportunity to influence the future of Stapeley and Batherton Parish.
A proposed Neighbourhood Plan has been drawn up by Stapeley Parish Council and independently inspected and approved by a government inspector.
The Plan gives guidance on any housing developments in Stapeley and will help to preserve conservation and wildlife areas in the Parish.
A leaflet is being delivered to all houses in the parish to encourage people to vote.
The Neighbourhood Plan can be found here www.stapeley.org.uk
There are two Polling Stations – the Community Hall near the Cronkinson Farm pub and RSPCA Stapeley Grange.
Votes can be cast up until 10pm and an announcement will be made shortly after.
If the Neigbourhood Plan is accepted, it will be installed with immediate effect.
This means it could be taken into account when a second public inquiry into Muller Property's bid to build the first phase of a 'Nantwich South' 1,000-home development begins on February 20 at Crewe Alexandra FC.