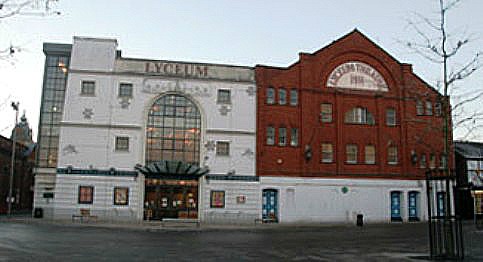 Performers finished in a blaze of glory at Crewe Lyceum – after a fire drama meant they ended their show outdoors!
The incident happened during the final night-time performance of the popular production, Birdsong.
Smouldering tea towels backstage set the building's fire alarm system off, and the show was halted and everyone evacuated.
And while fire crews cleared the smoke-logged building, hardy performers continued the show outside in the Lyceum Square, to the 'warm' applause of hardy spectators.
Some of the audience even used their mobile phones to light up the performers in the dark.
A Crewe Lyceum spokeswoman told us: "During the final performance of Birdsong on Saturday evening our fire alarm system was activated as a result of smoke emanating from a backstage area.
"Our robust fire-safety procedures were activated, the performance was stopped and the building was evacuated as a precaution.
"The Fire Service were alerted and attended in line with our procedures.
"The cast of Birdsong performed the final 10 minutes of the performance in the Lyceum Square to an appreciative crowd!
"We're grateful to our audiences for their understanding and to members of staff and the Fire Brigade for their swift response."
Jon Woodley and Anne-Marie Woodley, of Birdsong Productions Ltd, said: "We would like to thank both the staff at the theatre and Cheshire Fire and Rescue Service for looking after everyone and ensuring everybody's safety.
"We were delighted that the audience were so supportive and that we were able to complete the final moments of the show in the market outside the theatre.
"The entire Birdsong cast and crew were so energised and appreciative of the support and understanding shown by the audience helping to light the final scenes, using their phones as torches.
"It is not often that theatres or performances have incidents like these and your reaction truly shows the British spirit and we lived up to the old mantra of 'the show must go on'!"
Cheshire Fire Service said: "Two fire engines attended a fire in Heath Street in Crewe.
"A number of tea towels had set on fire. Crews used two breathing apparatus and a hose reel to extinguish the fire. They then used a large fan to disperse the smoke."