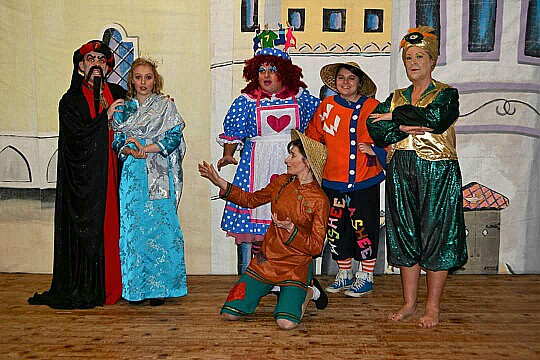 Shavington Village Festival Committee are delighting audiences this week by presenting their 40th consecutive pantomime, Aladdin, writes Claire Faulkner.
Written by Bradford and Webster and directed by Rachel Hadzik-Chesters, this feel-good traditional panto was great entertainment and enjoyed by everyone who saw it on opening night.
It's a packed family friendly show. Full of music, dancing and laughter.
The show is designed to have lots of interaction with the audience, and the children in attendance on Tuesday night had a great time getting involved.
In classic panto style, there were some very funny moments, and these worked well because the show was so well produced.
Aladdin was played by Megan Sheer. Wishee Washee was played by Hannah Brett.
Panto Dame, Widow Twanky was played by Jonathan Brett and Abanazar was played by Adam Goode.
There was a huge cast involved in this production, and it would be impossible to name and credit everyone involved.
From the children's chorus to the band, everyone front and back stage did a great job.
It's a pleasure to see so many people from a local amateur group getting involved and making good quality theatre.
Aladdin is on at Shavington Academy until February 24.
Times and ticket details available (below) and from the group's Facebook page here.