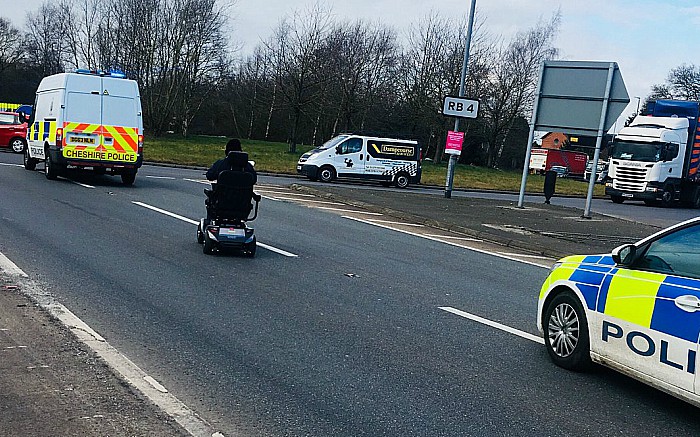 A man on a mobility scooter needed a police escort after he took a wrong turn on to the busy A500 dual carriageway near Nantwich.
Officers were alerted when people reported the scooter motoring along the A500 close to the Cheerbrook roundabout between Nantwich and Shavington.
The incident happened at around 12pm yesterday (February 26).
A police van and squad car arrived and provided an escort to help bring the OAP off the A500 and back onto a pavement to make his way home.
Nantwich Police tweeted at the time: "It's not often a mobility scooter gets a police escort… Fortunately when this one's rider took a wrong turn onto the A500 we were on hand to lead them to safety!"
A Cheshire Police spokesperson said: "We were called by concerned motorists who had seen the man on his scooter on the A500 near Nantwich at around 12pm.
"Two vehicles attended the scene and helped him get off the road so he could get home safely.
"He had taken a wrong turn and ended up on the road as he was riding back to his house. It's not something we are used to dealing with but were happy to help."
(Pic courtesy of Nantwich Police)