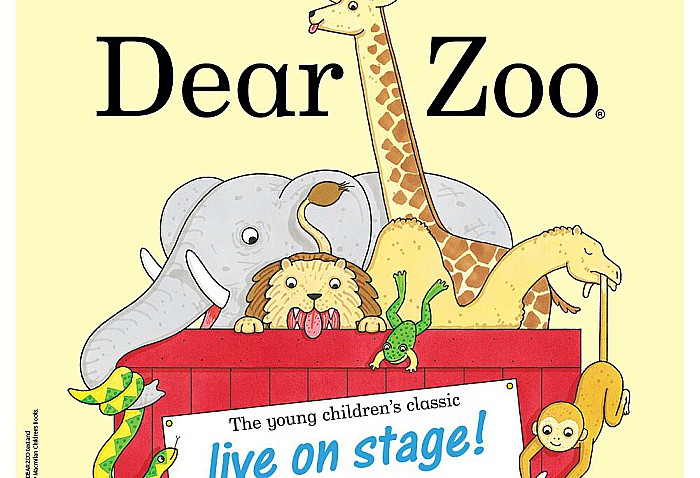 Author Rod Campbell's best-selling classic lift-the-flap book, Dear Zoo, is being brought to life for the very first time – and is heading for Crewe Lyceum Theatre.
The new stage production of a book which has delighted generations of young readers since 1982, has started out on a UK tour.
Dear Zoo has sold more than eight million copies worldwide, and the show has 72 scheduled dates around the country.
Published by Macmillan Children's Books, the story of a child who writes to the zoo asking them to send a pet continues to delight each new generation of children as they lift the flaps in search of the perfect animal.
Written by Rod Campbell, produced by Norwell Lapley Productions and directed by Michael Gattrell, Dear Zoo live on stage is suitable for children aged 2 – 6 years.
It is brought to life through child-engaging puppets, original music and lots of audience interaction.
It is sure to appeal to families and children who love the book and will serve as a wonderful introduction to those coming to the story for the first time.
Campbell is the master of interactive storytelling and an expert in early learning for pre-schoolers.
His books have stood the test of time and continue to be a staple addition to the family bookshelf and a popular choice for early years' teachers.
The creator of more than 200 books for children, Campbell's ability to be fun and reassuring encourages children to discover and delight in the world around them.
He said: "I can hardly believe that Dear Zoo is celebrating its 35th anniversary!
"I really am enormously touched and delighted that successive generations of young children continue to love Dear Zoo – their obvious pleasure when interacting with it is so gratifying to see, and for me is the very greatest of compliments!"
It will be performed at Crewe Lyceum Theatre on Saturday and Sunday April 21 and 22.
For ticket details visit www.crewelyceum.co.uk