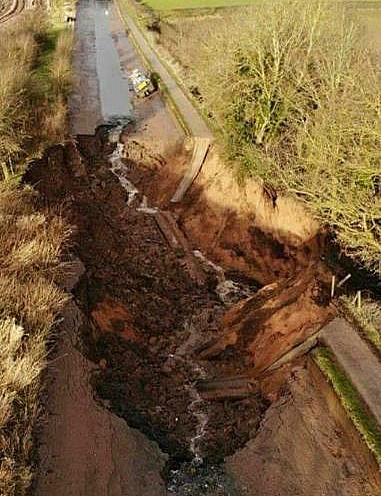 An embankment collapse on the Shropshire Union Canal between Nantwich and Middlewich has left boats stranded and drained a large stretch of the waterway.
The incident has closed the canal between Wardle Lock and Stanthorne Lock, south of Middlewich.
The collapse caused water to drain into the River Wheelock and leave around 20 boats stranded.
It is affecting a stretch of the canal leading to an aqueduct near Nantwich Road.
The Canal and River Trust said it would offer help to the owners of the boats.
One man found on board a boat close to the collapse was moved to safety.
The Canal and River Trust said there has been a 'navigation closure' because of the structural failure and it will be closed until further notice.
"Further updates and information to follow once our engineers have had the opportunity to fully assess the situation," said the trust.
The owners of nearby Aqueduct Marina, based at Church Minshull, has sealed off its entrance to the marina as a result.
They said: "Please be aware of a breach on the Middlewich canal.
"As a temporary precaution we are currently sealing off the entrance to the marina."
(pic below by Eion Anderson and Aqueduct Marina)