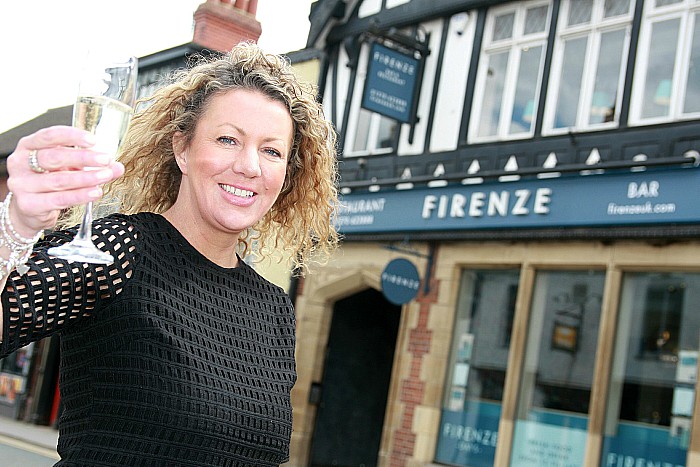 Landmark Nantwich bar and restaurant Firenze has opened in record time after a transformation by a team of Nantwich businesses.
Firenze, on historic Welsh Row, was closed for just 12 days while painters, plasterers and upholsterers worked as a team on a major make-over.
Often working through the night, their efforts have been given a big thumbs-up by the hundreds of customers who have since visited the venue.
Firenze director Louise Bastow came up with the design using cool hues of blues and turquoise to replace the previous red and black theme.
The menu has also has a facelift, switching from Italian to all types of food including a new Chargrill section.
Mother-of-three Louise said: "As a businesswoman and mum living in Nantwich, it was important to me to use only tradespeople and other businesses based locally.
"I knew I wanted to replace the red and black and create a more fresh and airy feel.
"So I found a wallpaper I loved at Cloughs decorating shop on Welsh Row and picked out colours from that for the seating, bar and menus.
"Upstairs we have installed a blossom tree which was inspired by a beautiful tree I have in my garden at home.
"Everybody worked so hard to minimise the closure period and by 'shopping' local we opened in record time, just 12 days.
"I have to praise the skill and enthusiasm we have here in Crewe and Nantwich for all manner of business services.
"There's really no need to go elsewhere!"
Local firms involved also included Zero Signs of Crewe, the Little Paper Shop in Nantwich for branding, and trCreative Nantwich for the new website.
Nantwich-based Jan Roberts of Pure PR and photographer Tim Jervis handled publicity around the relaunch.
The work continues with a revamp of the outdoor courtyard which is due to open later this month.
Louise, who also runs The Cheshire Cat and Street on Welsh Row, added: "Firenze is open Tuesday through to Sunday, from noon to late, and we would love people to come and see what has been achieved.
"There's something for everyone on the menu.
"Ingredients are sourced locally, right down to our Cheshire potatoes which come from a local farm run by our chef Jenna's dad.
"They are so tasty we have given them their own section on the menu.
"Our offering is relaxed, modern dining in beautiful surroundings. And so far the feedback has been great. Regulars have said 'wow' what a difference.
"Having put so much of myself into the refurbishment, I'm thrilled at the response."
The premises, formally the Swan with Two Necks pub, opened as Firenze nine years ago and employs 12 people.
It welcomes more than 3,000 people a month for meals, cocktails and music and dancing on Friday and Saturday nights when a resident DJ is at the turntable.
For more information visit www.firenzeuk.com