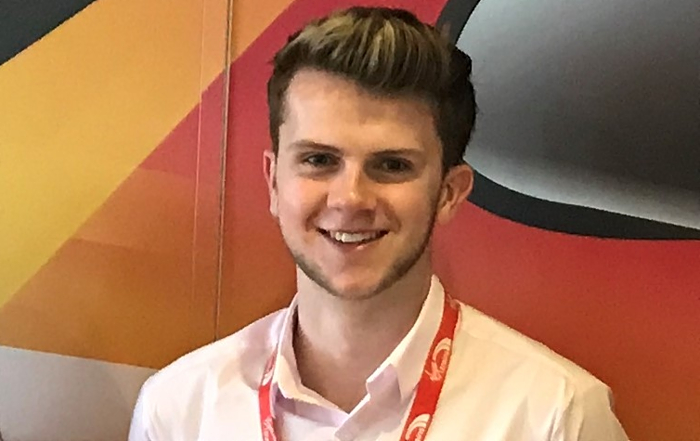 A talented Nantwich student has bagged a dream job with Virgin Trains – after completing a first class internship!
Oliver Brady, 17, carried out a six-week paid internship while studying as a business student at Cheshire College – South & West.
And now he's on the right track to a successful career after making his mark working in the Customer Services Department at Crewe Train Station.
Oliver said: "When I started studying at college, my tutor encouraged me to apply for the internship with Virgin Trains.
"I hadn't thought about doing an internship prior to that, or necessarily had an interest in working in the rail industry.
"However, I'm so glad I was accepted onto the programme as it's been a fantastic experience and landed me a job.
"The team at Crewe made me feel so welcome throughout my time there and I learnt a lot.
"It's given me the confidence now to feel positive and excited about taking on a full-time role."
The internship was organised as part of Career Ready – a UK-wide charity linking employers with schools and colleges to open up the world of work to young people.
"To have been offered full-time employment at Virgin Trains straight after completing my course has been incredible," added Oliver.
"At the end of this month I will be working as a Welcome Host, which means I will be working with revenue protection and ticketing operations as part of the Customer Services Team."
Suzanne Davies, business lecturer at Cheshire College – South & West, said: "Our partnership with Career Ready has really helped our students grow in confidence and gain essential skills for work.
"The internship with Virgin Trains enabled our students to gain an insight into the opportunities available to them after college, and Oliver is a great example of someone who has taken hold of that opportunity to secure a full-time role.
"He has worked very hard and we are really proud of his achievements."
(Pic: Oliver has secured himself a dream job with Virgin Trains, following the completion of his six-week paid internship last year)