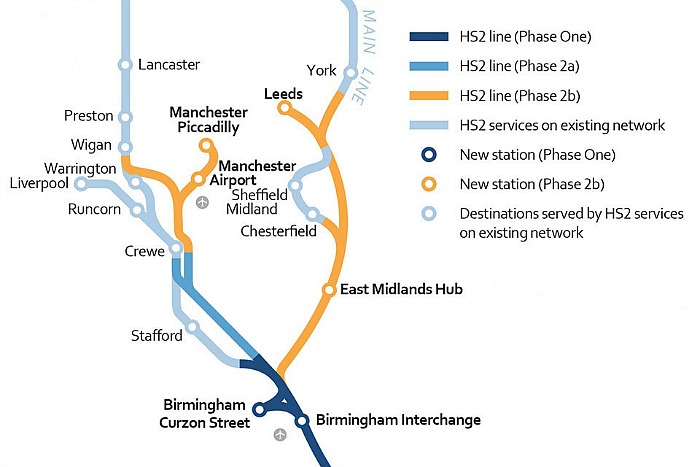 Teams from HS2 Ltd will be staging community information events for residents keen to find out more about the high speed rail project and its impact on South Cheshire.
Three events will be held in the region during June and July 2018 as part of a wider engagement programme along the planned route between the West Midlands and Leeds, and Crewe and Manchester.
The Government confirmed its preferred route for Phase 2b of the High Speed Two (HS2) railway on July 17 last year.
Crewe is set to be a Hub station, with plans for seven HS2 services to London every hour, and 400m-long platforms to accommodate the trains.
HS2 Ltd has spent the last 10 months progressing its early design and construction proposals.
HS2's Phase Two Director Paul Griffiths said: "The benefits that HS2 will deliver are significant and should not be underestimated.
"The new railway will play a crucial role in re-balancing Britain's economy, driving business growth, creating jobs and securing investment right across the country.
"Understandably, people have questions and concerns about the construction and operation of the railway, and how it will affect them.
"These events present an ideal opportunity to talk to us about the project and find out more information."
One in Crewe will take place on Tuesday July 10, 2pm to 8pm, at Crewe Alexandra FC's Alexandra Stadium, on a drop-in basis.
At the events, HS2 representatives will answer questions on engineering plans, environmental mitigation, and impacts on land and property.
Members of the public are encouraged to attend so they can review plans and discuss emerging designs and understand what this means for them.
A public consultation on HS2 Ltd's draft environmental statement and proposals to minimise the railway's potential impacts will be held later this year.
Details of the full event programme can be found at here http://www.hs2.org.uk/building-hs2/building-the-line/phase-2b/mid-2018-information-events/ or at http://www.hs2.org.uk/building-hs2/building-the-line/phase-2b/mid-2018-information-events/
Other events are  Saturday June 9, 12pm – 5pm, The Winsford Academy, Grange Lane, Winsford, W7 2BT; and Friday June 15, 2pm-8pm, High Legh Village Hall, West Lane, Knutsford.