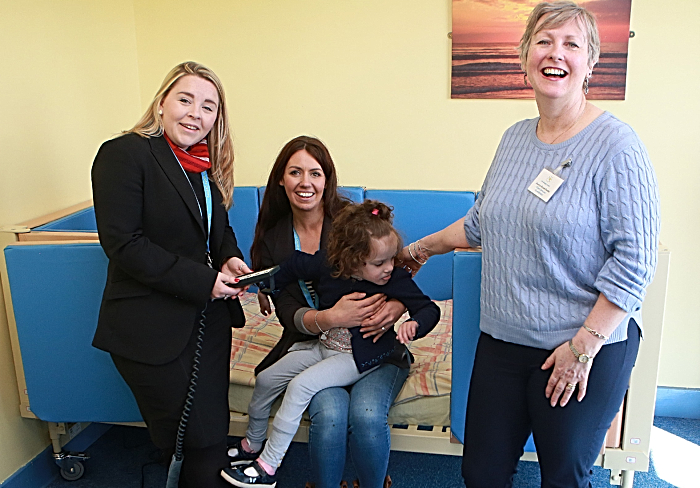 Children using the Wingate Children's Centre near Nantwich will now have access to a new specialist bed.
The Wingate trust in Wrenbury needed the "rise and fall" bed to provide a safer and more accessible sleeping environment for the children with cerebral palsy, Down's syndrome and those on the autism spectrum.
Volunteers raised £2,000 from their own fundraising activities, but was still short of £1,250 to buy the bed.
That's when fundraising co-ordinator Victoria Robinson heard of Redrow's Nantwich Community Fund.
And after applying she was received the full £1,250 required.
Victoria said: "Last year we welcomed over 570 children to the centre, enabling them to grow in confidence, learn new life skills, develop independence and self-reliance and to have fun in a safe and supported environment.
"However, we were in desperate need of a new specialist rise and fall bed and we're incredibly grateful to Redrow for their support because it meant we could finally buy one.
"It means a great deal to the staff and children here."
Redrow is currently working on the first phase of its Kingsbourne development nearby in Nantwich.
The company launched the community fund ahead of sales last year and is supporting seven local groups including the Wingate Centre.
Jason Newton, sales director for Redrow Homes (NW), said: "It's incredibly important to us that aside from building new homes, we become part of the existing community and help it thrive.
"As soon as we saw the application from the Wingate Centre we knew it was a perfect fit for our ethos of encouraging excellence, health and well-being, plus supporting the development of the young.
"They'd already achieved so much with their fundraising and it was a pleasure to help them reach their final goal, especially when it will make such a difference to the care the children receive at the centre as well as make it easier for the carers themselves."
For more information on the new Redrow homes in Nantwich go to www.redrow.co.uk/kingsbourne or call 01270 861 704.
(Pic: Redrow's Laura Hayward with Victoria Robinson, Jo Broad Reeder and Meghan Kewley, 6, with the new specialist 'rise and fall' bed)