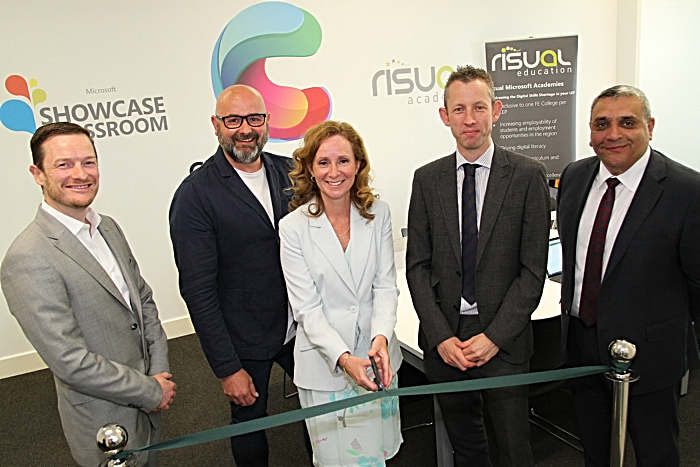 Employers, staff and industry professionals attended the launch of Cheshire College – South & West's risual Microsoft Academy.
The initiative will provide Microsoft accredited digital training for learners and local employers to equip them with skills and knowledge for the workplace.
The new collaboration between the college, risual and Microsoft aims to embrace the digital revolution and link employers with learners.
The digital training centre contains the latest Microsoft technology and will be used to train internal and external staff, access digital apprenticeships and provide industry qualifications.
Paul Edge, Microsoft Learning Consultant, said: "Our aim as a company is to empower people to achieve more and this is what we are hoping to accomplish with the Academy.
"Through digital literacy we want to empower people within the college, both learners and staff, and arm them with the skills they need for the future.
"Technology is a constant evolution and with a blended approach we can enhance our future with the latest innovations.
"This is a partnership that benefits the whole organisation, creating pathways around digital skills and use of technology to improve overall effectiveness."
Helen Nellist, deputy principal/deputy chief executive at Cheshire College, added: "The Academy idea was born out of a conversation with our Local Enterprise Partnership (LEP) representative, Mark Livesey.
"We discussed how we can respond to the digital world, and agreed we needed to invest time and effort in the right areas by creating a digital hub with the aim of sharing knowledge and information.
"It is a critical time for any organisation as the pace of change in the world of digital and technology continues to accelerate.
"We want to prepare our learners so that they have the skills they need for when they begin the next stage of their career.
"We are engaging with employers nationally and locally to understand specific needs and prepare our learners accordingly."
Mark Livesey added: "We believe this will have a significant impact on the local economy, drive economic growth and create additional job opportunities."
Leading IT consultants, risual, have been transforming organisations with technology for over ten years, providing market leading consulting, managed services and solutions in IT.
IT consultants risual have experienced the difficulty in bridging digital skills gap between education and in the work place.
Richard Proud, co-founder and director of risual, said: "It became evident the issue was in the skills gap. I was gaining talented learners but their skills didn't match my requirements and we had to start again with their training.
"That's when I decided I wanted to make a difference and act now to improve the quality of learning, in order to effectively align young people with employers to create a better fit."
(Pic: left to right, Julian Cobley of Skills & Growth Company; Helen Nellist; Paul Edge; Dhesi Principal and Chief Executive at Cheshire College – South & West)