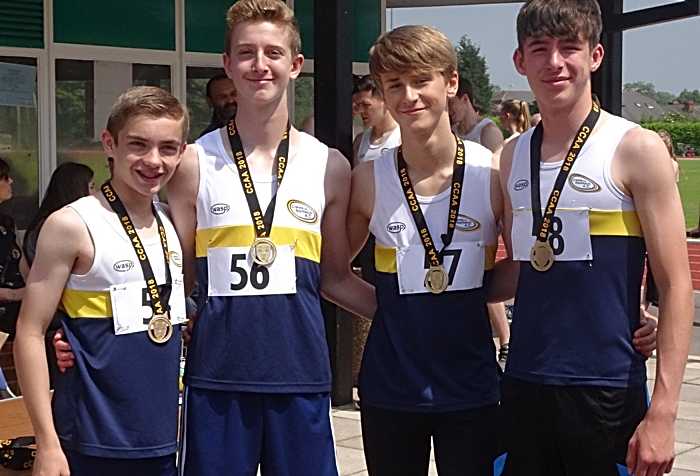 More than 80 Crewe & Nantwich AC athletes took part in the annual Cheshire Track Relays at Crewe's Cumberland track.
And dozens came away with medals after another strong performance by the host club.
Sixteen Crewe and Nantwich AC teams came first in their events.
These included the U11 boys, U15 girls, and U17 men all won two events, while the U15 boys and Senior Men won all three they entered for.
They were competing against teams from Macclesfield, Warrington and West Cheshire, with one team from Sale Harriers.
The U11 boys won the 4×100 and 3×600 relays, the U15 girls won 4×100 and medley relay, U15 boys (pictured above) won 4×100, 3×800 and medley relays.
The U17 men won the 4×100 and 3×800, while the Senior Men won the 4×100, 3×800 and medley.
Veteran Ladies also won gold in the 4×100, and the U17 Women won gold in the 4×100.
The U13 boys won the 3×800, and the U13 girls won the 4×100.
Many others also won silver and bronze medals.
Meanwhile, at the Cheshire Schools Track and Field Championships a number of local athletes qualified to represent their county in Birmingham at an Inter-County Trophy meeting.
Ben Verbickas won the junior boys 300m, Liam Prestwich won 1500m, and Drew Bradley won 80m hurdles.
George Spain won pole vault, and Oliver Atkinson won the javelin.
In the inter-boys, Ben Basten won 100m, Raif Serif was second in the 1500m, David Naylor was first in 100m hurdles, Ethan Hall was first in 400m hurdles.
In junior girls, Esther Wilding won 100m, Ruby Bowie won 200m, Rosie Meakin second in 75m hurdles.
In the inter-girls, Zoe Leydon won 80m hurdles, Evie Shorthose won high jump, Amelia Atkinson was second.