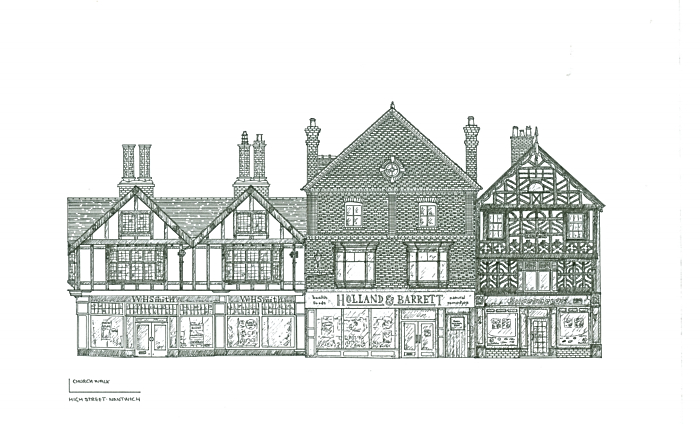 An exhibition called "Nantwich Buildings" by local artist Simon Bowler is now open at Nantwich Museum.
His artwork looks at buildings and architecture of some Nantwich streets as well as other nearby locations familiar as places of work and leisure.
It has opened in the Your Space Gallery at Nantwich Museum and runs until Saturday July 21.
Simon's work is produced by using only technical pen, drawn directly onto art board in a tightly controlled style, the colour drawings have a looser line.
Some views show a wide angle segment of a street, others a composite of buildings that share a locality or theme.
Simon said: "Having trained as a graphic designer I have a particular interest in capturing logos and typography displayed on some buildings.
"To assist in the detail I often first photograph the buildings.
"This helps in assembling the illustration, which can take some time.
"Generally, the drawings accurately depict what I've viewed.
"If it was bin day at the time then it's likely the bins may appear in the drawing too!"
Although now working as a civil servant, Simon studied graphic design at the Hartford Design Studio campus of Cheshire School of Art.
Entry to the museum and exhibition is free.
Most of the work exhibited will be available for sale, and a limited number of signed mounted prints of the Nantwich illustrations will also be available.
Contact Nantwich Museum on [email protected], call 01270 627104, visit www.nantwichmuseum.org.uk, or https://www.facebook.com/nantwich.museumoffical/ or https://twitter.com/NantwichMuseum