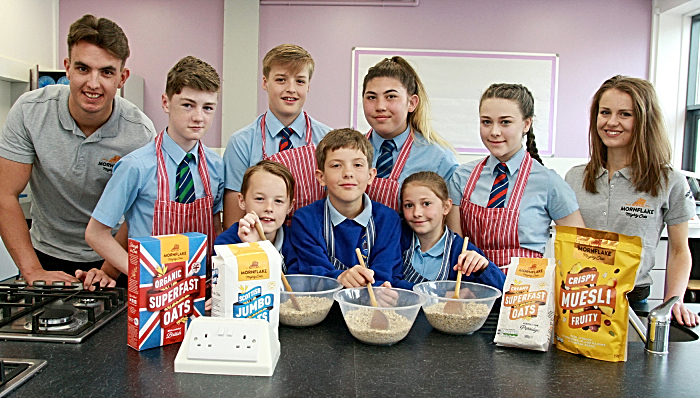 Nantwich schoolchildren are on song as they prepare for a massive celebration of music and art in the town's annual Schoolsfest event.
And this year family-owned milling business Mornflake is throwing its weight behind the celebration which will involve more than 500 youngsters from schools across the town on July 7.
Choirs from all schools in the Nantwich Education Partnership will take part in the Big Sing on the town square followed by The Battle of the Bands which is open to all performers aged 18 and under.
The event, now in its eighth year, also features choirs and dancing in the Cocoa Yard as well as an art exhibition in St Mary's Church and a chance for pupils to display their short films based on the theme of anniversaries.
In the run up, Mornflake is staging a competition for children to create their own tasty flapjack recipes using its Crewe-milled oats.
The winning recipe will be featured on the firm's website and the winner will scoop a Mornflake flapjack-making kit and Snugbury's ice cream voucher while all his or her classmates will receive goody bags.
Mornflake marketing manager Richard Jones said: "Obesity in the young is a worrying issue and supporting this event is a great way of encouraging local families to lead healthy lifestyles and include oats in their diets.
"Studies show that people who eat wholegrain foods, such as oats, are less likely to gain weight and gone are the days when they were for breakfast only.
"The flapjack competition demonstrates how they can be enjoyed as an energising snack at any time of day.
"On top of that, Schoolsfest is a nice way of engaging with local consumers and supporting an event which showcases the great work that goes on in our local schools."
Schoolfest organisers have put the word out by posters and flyers and big crowds are expected from the start at 10am when there will be an opening ceremony.
John Mann, on the SchoolsFest organising committee, said: "We are extremely pleased that Mornflake has agreed to become Schoolfest's official sponsor, helping to strengthen the organisation and delivery of the event.
"This backing will considerably benefit the children of the 16 Nantwich schools."
Brine Leas School headteacher Andrew Cliffe added: "Schoolsfest is a massive celebration of the arts and highlights how local schools are keeping these subjects alive despite financial constraints.
"The creativity of our local youngsters will be a marvel to behold."
Hundreds of youngsters have already submitted their flapjack entries using Mornflake oats via their schools.
The company is also a major sponsor of the Nantwich Show and Nantwich Food Festival.
Performers wishing to enter Battle of the Bands are asked to email [email protected]
(Pic below: Mornflake ambassadors Lewis Jones and Sian Williamson with Brine Leas headteacher Andrew Cliffe, Millfields headteacher Phil Whelan and Nantwich children at the launch of the flapjack contest)