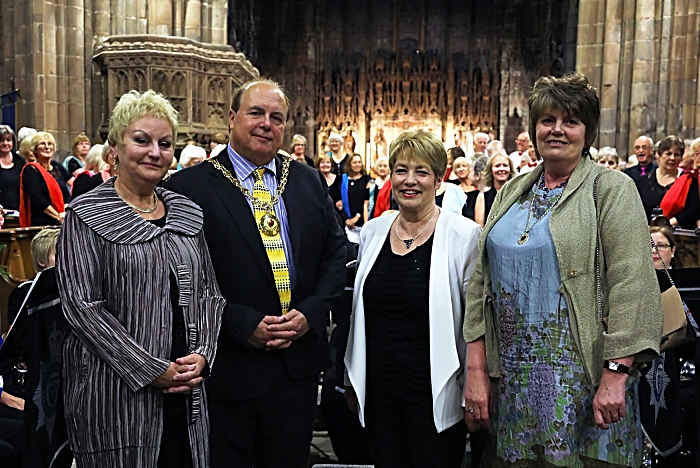 A concert which united choirs and bands at St Mary's Church in Nantwich has helped raise vital funds for the Mayor's chosen charities.
Groups including Simply Allsorts and Simple Harmony Choirs, together with Singcopation, and a cappella group, reunited for the Encore Concert, with Cheshire Constabulary Brass Band and Drum Corps.
Mayor of Nantwich Cllr David Marren, who attended the event with his consort Mayoress Belinda Marren, said: "This was a truly fantastic event, and it was a delight to see such outstanding performances across the varying levels.
"The drummers were mesmerising, and the repertoire of the band and choirs were memory provoking for me with many numbers which have been made even more popular through cinema over the years."
The eclectic programme of music was well received by a packed crowd with choral director and organiser Chris Hale, and Band and Corps of Drums of Cheshire Constabulary director David Woollam vowing to reunite again soon.
Cllr Marren added: "I do want to give a big thank you to Chris Hale not just for organising a great evening but for her generosity in committing to donate any profit from the event to my good causes, which are North West Ambulance Nantwich First Responders, Nantwich Fire Cadets and Hope House."
Anyone interested in getting involved, Simple Harmony choir rehearses in Nantwich on Monday evenings at the Regents Park Conference Centre and welcomes new members at the start of the new term in September.
(Images by Norman Young)