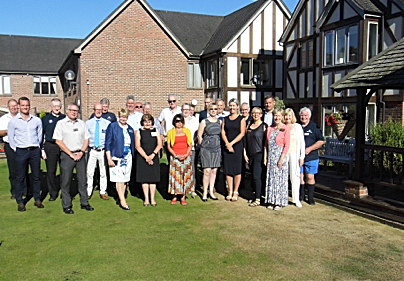 A new informal South Cheshire Rotary Club has been launched in Nantwich for business people.
The inauguration ceremony of the club took place at Richmond Village in Nantwich and will meet there weekly at 7.30am each Wednesday for an hour.
It was attended by Rotary District Governor Beryl Cotton and her husband Tony for the first formal stage in recognising the club's first stage of development.
The new club has an informal approach, will be active in fundraising while having fun and networking to provide mutual help and support to its members.
Ten new members have joined with more in the pipeline, as the club seeks to grow membership to 20 so it can operate independently.
Rotarian Tony Coxhill said: "We now have 10 members who have committed themselves to being part of this exciting new venture with several more in the pipeline.
"Three of the members have volunteered to lead the club in its early stages.
"The next stage is to grow our membership to 20 members so that the club can operate completely independently.
"We are looking for new active people to join us."
For more information and the opportunity to attend a meeting, contact Tony Coxhill by email [email protected] or phone 07770988208.