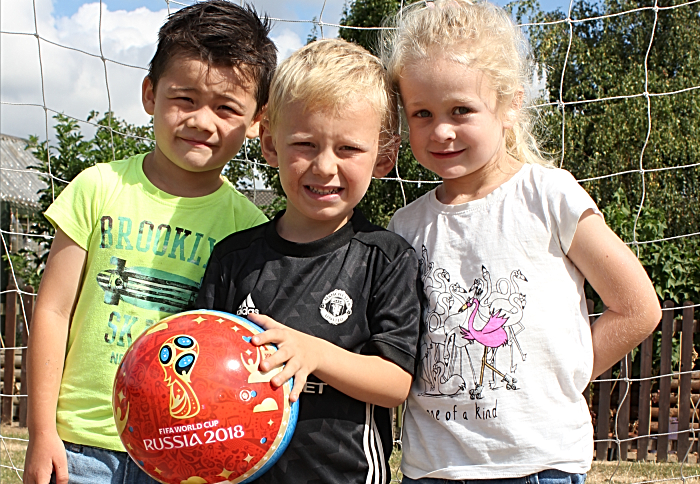 Football's Coming Home to Nantwich as it goes World Cup crazy ahead of England's first semi-final in 28 years.
School pupils and staff will be dressing up, pubs and clubs are preparing major screenings – and a furniture company has even designed a special World Cup England sofa!
Mia Stanza director Louise Appleby couldn't resist designing this St George's flag settee (pictured, below) to celebrate the England team's success.
Using the company's virtual simulator, this sofa is now available to order and could be a must in the living room of die-hard supporters!
"We had to design this, it just felt right!
"The World Cup has captured everyone's imagination.
"It's ready to be ordered if anyone wants to have a permanent memento of England in their home!" added Louise.
Local schools are joining in the fun on Wednesday (July 11) before the semi-final match.
The Nantwich Educational Partnership (NEP) is encouraging all pupils to dress in red and white or football kit on match day.
NEP chair Mr Phil Whelan, a former professional footballer, said: "The World Cup has clearly captured the imagination of the nation.
"Last Saturday the children who sang as part of Schoolfest finished off their amazing whole school's sing with a rendition of 'Three Lions' with everyone singing together.
"It was a really great moment.
"It seemed a great opportunity to then bring the children together again when we qualified for the semi-finals later that day.
"All the primary schools along with Malbank are actively encouraging pupils to show their support on Wednesday by having an impromptu non-uniform day.
"We want to encourage pride and support for all our national teams and this world cup has really captured the imagination of the children and staff.
"I may even wear a waistcoat myself! Let's get the whole town behind the squad and help to bring football home."
Meanwhile, a Nantwich fashion retailer has appeared on national radio discussing the country's renewed love of waistcoats worn by England manager Gareth Southgate.
Papa's Tailoring caught the eye of top BBC Radio 5 Live presenters Colin Paterson and Sam Walker who were keen to test out the summer's hottest new trend.
The England manager's style has sent waistcoat sales soaring by 35%, according to Marks and Spencer.
And the "Southgate effect" is one that Papa's Tailoring founder Joanna Nelson can relate to.
"Waistcoats are not just for weddings or to be worn with a three-piece suit. They can be worn as a stand alone garment too," she said.
"They are such a versatile part of the wardrobe. An individual waistcoat that is cut well and fits well and has the proportions just right is key.
"They can really be used to show off personality and confidence."
Dozens of pubs and clubs will be screening Wednesday evening's match, kick off 7pm.
The Crown Hotel has promised to give away 200 free pints if England make it through to Sunday's World Cup Final.
And households across the town will be staging their own World Cup semi-final parties.
Come on England!