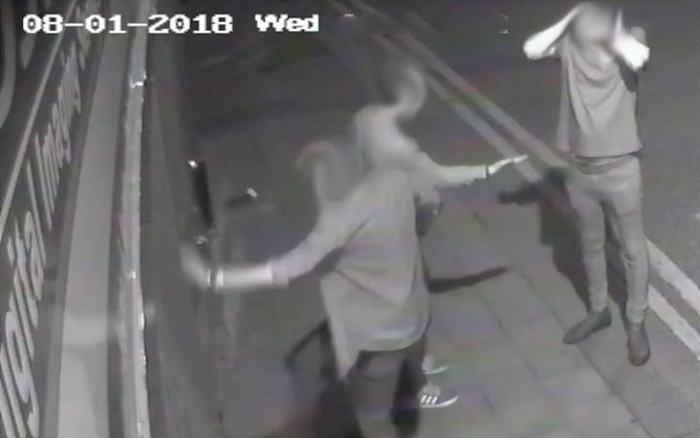 The boss of a Nantwich business has issued an ultimatum to yobs caught on CCTV vandalising his company premises.
John McMillan, who runs Johnsons Printers on Oatmarket in the town centre, released these images of a number of young people near his front door when the damage happened.
Mr McMillan said the incident involved around five young men and one woman.
Staff arrived at the premises this morning to find the front door smashed.
They reviewed security cameras and found the damage was caused at around 3.04am in the early hours.
Now Mr McMillan has given the offenders an opportunity to avoid criminal damage charges.
"To those who were involved in smashing our front door at Johnsons Printer at 3.04am this morning, we have lots of really clear CCTV of you – as you would expect given the big yellow notice next to the door," he said.
"Feel free to come in and apologise, pay for the repairs and make a donation of £100 to St Luke's Hospice.
"Alternatively, the police have informed us they will pursue you with a charge of criminal damage…..and it's really good CCTV."
He added: "It was five lads, one girl, the lad who kicked the window also threw over the bin in the middle of Oatmarket. Pointless."
A spokesman for Cheshire Police said: "Police have received a report of criminal damage to a shop window on Oat Market, Nantwich, which happened at 3am this morning (August 1).
"If anyone has any information about the incident then please contact Cheshire Police through our online form https://cheshire.police.uk/contact/general-enquiries or call on 101 quoting IML 141030. Alternatively, you can call Crimestoppers anonymously on 0800 555 111."
The incident comes just a few days after a number of teenagers aged 14-16 were caught on CCTV wrecking flowers and planters in the town centre.
Nantwich Police quickly identified those offenders who are being forced to apologise to Nantwich in Bloom volunteers and councillors, and pay for replacement planting.