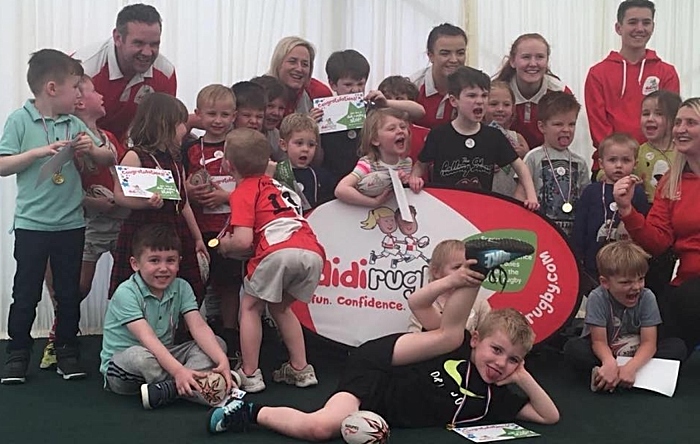 A new "didi rugby" franchise is launching in Crewe and Nantwich, aimed at introducing rugby to youngsters aged 18 months to 6.
The didi rugby classes will be held at Reaseheath College in Nantwich when it launches this weekend – and organisers say they have 60 children already signed up!
There are three age groups in the scheme – toddlers aged 18 months to three years, then three to four year olds, and four to six year olds.
Kate Heirene, who is running the local group, said: "Our program is designed to get kids active, teach them new skills and improve their co-ordination, speed and balance.
"It will also help them learn social skills while they have lots of fun in a positive, safe and friendly environment."
A launch event is taking place tomorrow (September 8) at the sports complex at Reaseheath College.
Weekly sessions will then be held around the area at Reaseheath College, Tarporley Community Centre and Audlem Public Hall.
The founder of didi rugby and former England Women's player Vicky Macqueen will attend tomorrow's launch event with Crewe & Nantwich RUFC coaches.
There will be taster sessions for each age group, balloons, cake, party bags, refreshments and a chance to meet the team, ask questions and win a children's party.
Kate added: "It's not linked to Crewe & Nantwich RUFC but obviously we hope our rugby stars will go onto to play for their local clubs, and most of the coaches are also players at Crewe."
One of those coaches is C&N Ladies captain Mollie Latham, who this week scooped top honours at the National Rugby Awards event at Twickenham.
"We are encouraging anyone who is interested to book onto a taster session as we already have over 60 children booked on," added Kate.
For more details contact [email protected] or visit http://didirugby.com/find-a-didi-rugby-class-in-crewe-nantwich-Reaseheath-College.php#tmup=/p/1915791-didi-rugby-crewe-and-nant/18826/