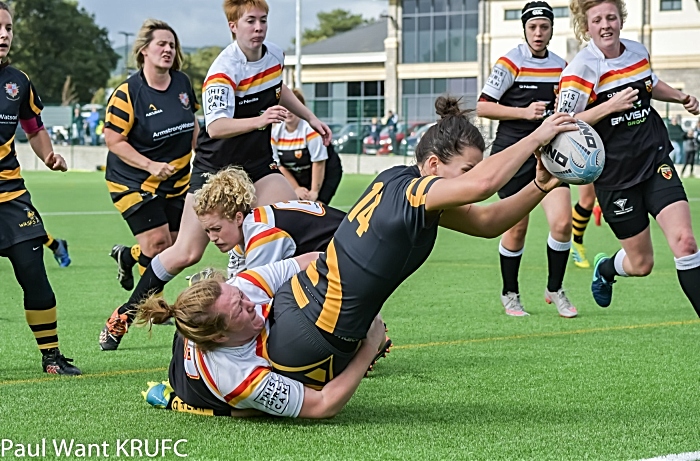 Crewe and Nantwich Ladies march on to face newly promoted Broughton Park after a spirited victory at Kendal at the weekend.
The Vagrants side won 32-22 in their opening 2018/19 league account on the road, surviving a spirited comeback against the Cumbrians.
Crewe and Nantwich fielded a much changed side in their opening fixture and survived a major scare after squandering a 15-0 lead against a physical Kendal side which was relegated from Championship 2 North league last season.
The visitors started in familiar style with an excellent try down the left wing through Mary Shepperson, finishing off a period of sustained possession and quick handling.
Mollie Latham scored a second try minutes later after Chelsea Hobbs was held-up over the try line after a series of pick and drives with the hosts struggling to cope with the speed of Crewe's recycling work.
New Captain India Perris-Redding scored an excellent team try moments later after a forward drive led by Princess Dynan punctured the Kendal defence.
But then Crewe lost concentration when dealing with a re-start and Kendal showed what they can do, releasing their big number 8 against a mis-matched defence to add a well-taken score.
Another mistake by Crewe dealing with a Kendal clearance kick set up another opportunity minutes later, taken well by the Kendal winger who shook off three covering tackles to score in the corner.
Although Crewe did well to stem the wave of Kendal possession, with Chrissy Lawton and Katie Heirene disrupting their clean ball, forced substitutions led to yet more Kendal pressure.
It eventually yielded a try on the wing after repeated drives just short of the line were well marshalled by Crewe, Ros Wiggins impressing in defence.
With the momentum in the match swinging Kendal's way, it took a vital score by Latham to stem the flow, converted by Lauren Vipond.
Perris-Redding completed her double soon after from a midfield off-load to take the score out of reach for Kendal.
Although they scored next, the game was put to bed by Millie Jones with Crewe's 6th try to add the gloss at full-time after an excellent mid-field break by Lauren Vipond.
Perris-Redding said: "The first game of the season is always challenging so it's great to get a win away from home.
"Kendal were a very tough team to face and we had to dig really deep to win.
"I'm proud of the effort, particularly the new players playing their first games of rugby. Lots to work on but I'm happy with the result."
Coach Matt Baty said: "We made it harder than it could have been and our defence needs some urgent work, but we've beaten a good team who were very unlucky to get relegated last season.
"It's a great way to start the season for us."
Crewe are at home to Broughton Park on Sunday September 23 at Crewe Vagrants.
(Pic courtesy of Paul Want, Kendal RUFC)