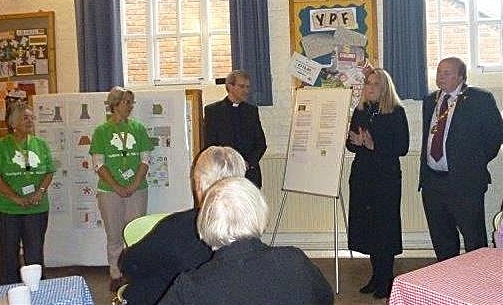 A new CAP Job Club has been launched in Nantwich.
The Christians Against Poverty initiative aims to give people the confidence to get back in to employment.
CAP has joined together with St Mary's Church in Nantwich to launch the scheme at the Market Street Church venue.
The club will also help people who are struggling financially to improve how they manage their money and budgets.
There will also be free counselling and advice on dealing with debt.
Rector of St Mary's Church Dr Mark Hart said: "With increasing poverty, significant competition for jobs, unemployment, and low income, rejections are commonplace and soon lead to many people feeling hopeless and isolated.
"Our CAP Job Club is designed to be a relaxed and safe place where job seekers can access practical support and gain skills to equip them and increase confidence in finding work."
Kay Carson, who has helped to set up the Job Club, added: "CAP Job Clubs can also provide valuable opportunities to connect with local employers who can provide advice, and may offer work experience.
"Members of Job Clubs around the country have said they have found it useful to hear first-hand from employers what they are looking for in a candidate."
Nantwich Town Mayor Cllr David Marren who attended the launch, said: "Unemployment is a difficult time, probably even a devastating time, not only for the jobless person but also for their family and dependents.
"The loss of the job centre in Nantwich a number of years ago was a blow to those who need assistance in getting back to work.
"So it is fantastically helpful to have a local job club in the town whose sole purpose is to help jobseekers gain the tools, skills and confidence they need to successfully land that job."
Laura Smith MP visited the club. She said: "It was a pleasure to join the hardworking volunteers at CAP in Nantwich.
"They are committed to helping local residents escape the cycle of poverty by offering advice and support with their job shop.
"I hope to see more employment opportunities come to our local area offering the well paid and secure work that they deserve."
The Nantwich CAP Job Club runs every Tuesday morning at 10am-12pm in Market Street Church venue.
For more details, contact 07398 434397 or email [email protected]
CAP services are delivered in Nantwich by St Mary's Church together with Market Street Church.