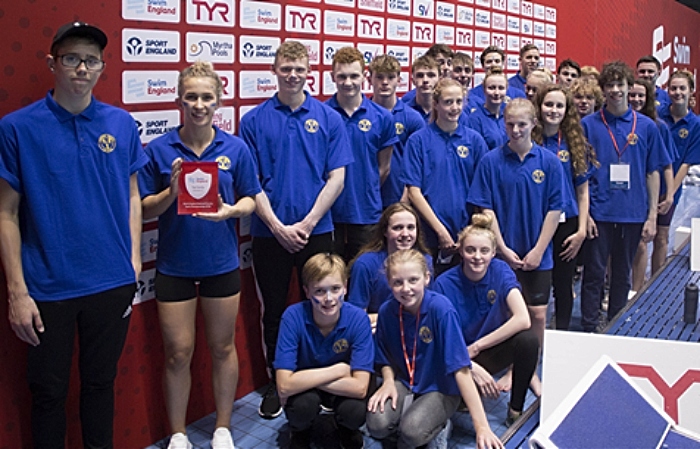 A Nantwich Seals swimmer has become the club's first girl to compete for Cheshire in a national competition.
Laura Kirby, from Stapeley, was one of 20 swimmers to represent the county at the Inter County National Competition held at Ponds Forge, Sheffield.
The 15-year-old, a student at Brine Leas School, competed in two of the relay events for Cheshire and helped her team claim first place in Division 2 of the competition.
Laura swims with Nantwich Seals Swimming Club based at the Nantwich pool, and is the first Nantwich Seals swimmer in more than 10 years to be invited to swim for Cheshire, and the first female ever.
There were 37 counties represented in the event at Sheffield last week, 17 of which were in Division 2.
Cheshire finished top of the table in Division Two, despite only winning three races, one relay and two individual.
They finished 17 points ahead of their closest opponents at Sheffield's Ponds Forge.
The champions ended on 461 points and finished ahead of Nottinghamshire, who were second on 444 points and third-placed Derbyshire, who scored 431.
Cheshire's Boys' 14-15 years 200m Medley team clocked 1:49.59 to secure maximum points.
They were 1.23 seconds ahead of second-placed Nottinghamshire, who clocked 1:50.82, while Sussex finished third in a time of 1:51.23.
Lewis Cottam secured one of the maximum points races for Cheshire.
In the Boys' 12-13 years 100m Freestyle, he clocked 56.14 and finished ahead of Nottinghamshire's Liam Dawson (56.89).
The third and final first place finish for Cheshire was the Girls' 12-13 years 100m Butterfly.
Eliza Pinkstone finished more than a second clear of the field in a time of 1:04.82.
Cheshire's winning squad included:
Alex Watkinson
Amy West
Beth Robinson
Caitlin Lansom
Ciaran Kenningley
Eliza Pinkstone
Emily Dobbing
Emily Riddick
Harvey Jones
James Rollaston
Jay Cushen
Kaiden Welsby
Laura Kirby
Martha Hurst
Megan Sheard
Rachel Houston
Reece Grady
Sophie Weston
Toby Hill
William Murray
(Pictured: Cheshire's winning team, including Laura Kirby, back far right)