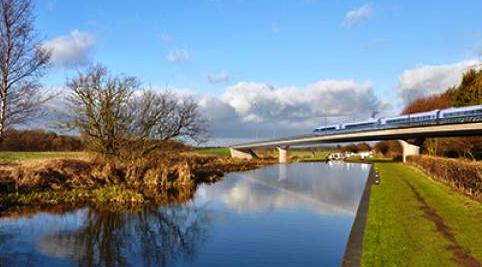 Cheshire East Council chiefs could be forced to review their local plan if MPs give the green light for HS2 to hit Cheshire, writes Stephen Topping.
The authority adopted its local plan strategy for up to 2030 last July – three years after it was told to go back to the drawing board after submitting its first draft to the planning inspectorate.
Frank Jordan, executive director of place at CEC, told scrutiny committee members this week that the local plan is due to be reviewed in 2022.
But that review could be triggered sooner if the bill for HS2 Phase 2a, between Crewe and the West Midlands, becomes an Act of Parliament.
And another review could take place if MPs also approve plans to take the high-speed railway from Crewe to Manchester in Phase 2b.
Mr Jordan told the environment and regeneration overview and scrutiny committee: "In terms of the legislation on local plans, we need to conduct a review five years from adoption anyway.
"The local plan as it is adopted does not take into account HS2 plans because the legal position is that until you have got a bill becoming an act, you can't take account of it in terms of growth.
"If we have 2a adopted by the [House of Commons] then that may trigger a review, and there would be something similar with Phase 2b as well.
"I think in terms of the timeframe, since we adopted the local plan last year, we are probably looking at around the five-year timeframe anyway."
Under the local plan, 1,800 new homes are expected to be built each year across Cheshire East until 2030.
Mr Jordan added that CEC "would need to review the whole local plan" to take HS2 into consideration if the bill for Phase 2a becomes an Act of Parliament – not just the proposals for Crewe.
On October 11, HS2 Ltd announced it is now seeking responses for its draft environmental statement and equality impact assessment as part of phase 2b (Crewe to Manchester).
Cllr Rachel Bailey, leader of Cheshire East Council, said: "Whilst HS2 is a once in a lifetime opportunity for Crewe and brings with it many benefits, we need to take some time to really consider the impacts, implications and consequences that it has for each area along the line.
"We have until December 21 2018 to submit our response to this phase 2b consultation and will work with local ward members, community groups and key local stakeholders to do this.
"If you are concerned about any of the impacts, please contact your local ward member so they can voice your concerns.
"Also, if you would like to know more about HS2's plans, you could attend its community information events."
HS2 Ltd is holding two community information events about the proposals for each phase, including the planning and delivery:
*Phase 2a (West Midlands to Crewe) will be held on Monday October 22, 2-8pm at Crewe Alexandra football club
*Phase 2b (Crewe to Manchester) will be held on Thursday December 6, 2-8pm at Crewe Alexandra football club
The bill for Phase 2a had its second reading in the House of Commons in January, while the Select Committee published a second report on the bill in July.
A bill for Phase 2b is expected to be launched in 2020.