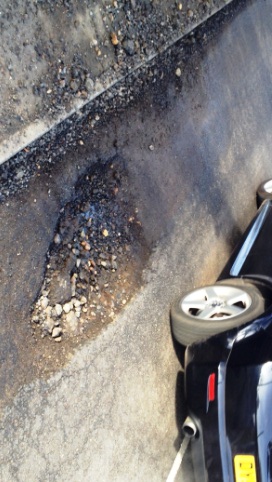 An additional £1 million will be spent patching up potholes after Cheshire East Council faced more than 360 new insurance claims between April and June, writes Stephen Topping.
A report issued at Thursday's full council meeting said that following a harsh winter, there were 368 new insurance claims against the council in the first quarter of 2018-19.
That figure was a healthy drop from the 483 claims made between January and March – but almost three times as many claims as the 130 that were made between April and June in 2017.
Councillors voted to increase the highways investment programme budget by £1,081,305 – which has come from the Government's Pothole Action Fund.
Cllr Paul Bates, cabinet member for finance and communication, said: "The Pothole Action Fund is additional funding provided by central Government to all local authorities to assist them in tackling the challenge of maintaining the highway.
"The council plans to invest the additional £1.08 million for 2018-19 into a programme of level two patching repairs.
"This approach minimises the need for reactive pothole repairs by delivering planned, proactive, right-first-time defect repairs that deliver best value."
Cllr Nick Mannion, Labour, suggested the rise in pothole claims in 2018 is "really disturbing".
He said: "Yes we are very good at rebutting those – I think it is 90% plus that we rebut.
"However, given in the media there have been claims in excess of £1 million for a single claim, there is no need to be complacent."
Members also approved £1.6 million funding from the Local Growth Fund for the new walking and cycling links in Crewe and Wilmslow, after CEC successfully bid to the Cheshire and Warrington Local Enterprise Partnership for the cash.
Cllr Sam Corcoran, Labour, and Cllr Martin Hardy, Conservative, both called for the funding to be available for schemes elsewhere in the borough in future.