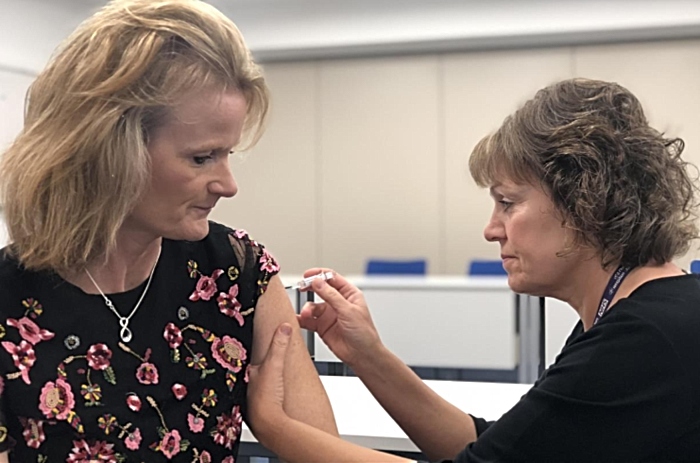 Health chiefs in South Cheshire are urging people to get vaccinated against flu this winter.
Flu is highly infectious and can lead to serious complications in those with underlying health problems.
It causes the death of a growing number of people each winter.
The vaccine is free for those aged 65 and over, those with a long-term, underlying health condition, pregnant women, and children aged 0-3 years old.
NHS staff are also expected to be vaccinated.
Tracy Bullock, chief executive of Mid Cheshire Hospitals NHS Foundation Trust which runs Leighton Hospital, said: "We know flu kills every single year.
"It's important that staff protect themselves because by doing that they protect our patients.
"It's also important because not everyone is symptomatic of flu, so they might come into a hospital environment, not knowing they have it and pass it on to our vulnerable patients."
Clare Watson, of NHS South Cheshire Clinical Commissioning Group (CCG) and NHS Vale Royal CCG), said: "We work together all year round.
"But with winter planning and all the pressures the trust, primary care and community services will face, it's about all the organisations coming together to give people to the best care possible.
"We also have to support our staff.
"Patients are our number one priority, but we also need to make sure that staff are fit and able to work to support the wider system."
NHS staff should be aware of where to get the flu jab.
If you are eligible for the flu vaccine, contact your general practice, pharmacist or midwife.
(Pic: Tracy Bullock, also a registered nurse, gave the latest 'jab' to Clare Watson)