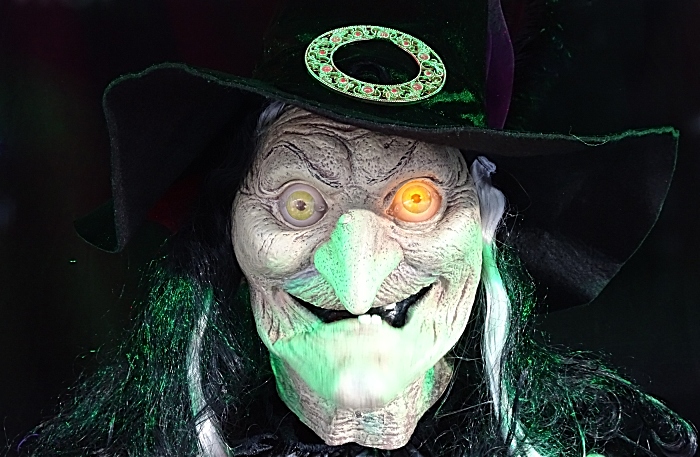 Homes, businesses and families across Crewe and Nantwich looked ghoulishly good as people enjoyed Halloween across the region.
And here are some of the most eye-catching sights, as captured by our keen photographer Jonathan White.
Houses on Capenhurst Avenue were a favourite with hanging corpses and monster maze!
Nevis Drive had inflatables and animatronics, while Barn Croft Road featured a giant spider and web and projector showing different Halloween songs.
Verdin Court – raising money for Cheshire Dogs Home – displayed its cauldron and tombstones.
And a special mention should go to the window displays at Blitz Fireworks on Hightown.
House features included skeletons, witches, scarily-dressed mannequins – some headless, ghosts, clowns, cobwebs, coffins, elaborately carved pumpkins, and scary sounds.
Dozens of families dressed up to trick or treat with costumes including ghosts, witches, bats, werewolves, skeletons, zombies and even a vampire dog!
Local events during Halloween included an adult party with live band and children's party at The Woodside (Wistaston), Carnevil party and fireworks at The Sydney Arms (Crewe), and a spooky craft fair and the movie Goosebumps at Crewe Lyceum Theatre.
There was a Halloween Howler ten-mile cross country run from Crewe Vagrants in Willaston, organised by South Cheshire Harriers, a Spooktacular fireworks display at Dorfold Hall in Nantwich last weekend, spooky art and tours at Nantwich Museum and Nantwich Police with a display of pumpkins and police officers handing out sweets.
Halloween passed off without any issues, Nantwich Police stating they received just two calls all night of low level anti-social behaviour.
(All pictures by Jonathan White)