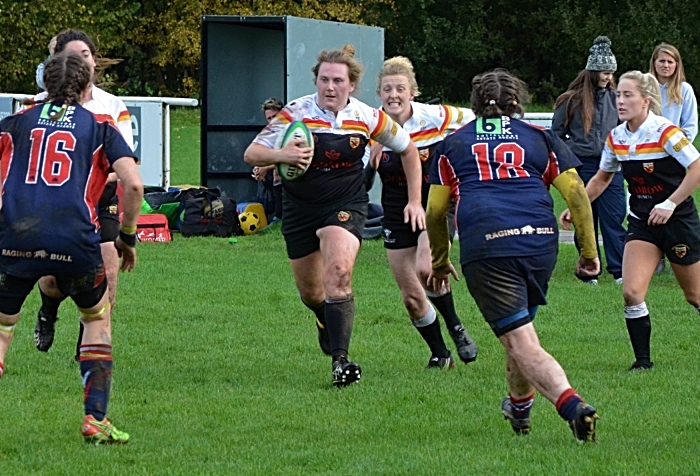 Crewe & Nantwich Ladies asserted their authority in the National Challenge 1 North West league with a nine-try demolition of newly promoted Leigh RUFC Ladies.
Crewe last met Leigh in an ill-temped affair in 2015 and this game was no different, an otherwise compelling contest marred by moments of foul play and flare-ups between players.
Both sides worked hard to assert their set-piece dominance, with Leigh impressing at the line-out, stealing a number of Crewe's earlier throws.
It was Crewe who looked the most threatening, with Nicole Bell making some big carries in midfield and Laura Hollinshead and Jodie Wilson also combining well
in the tight to ask questions of the Leigh defence.
Eventually after several penalties for breakdown offences, India Perris-Redding broke the deadlock with a quickly-taken penalty to score under the posts, converted by Sally Davies.
India scored her second moments later after Ros Wiggins and Mollie Latham (pictured) combined well to set up quick-ball, sniping from the base of the breakdown to score.
Winger Millie Jones then scored two tries of her own, the first from long distance and the second following excellent movement and handling to touch down on the right touchline.
At 26-0 at half-time, Crewe took their eye off the ball soon after the re-start.
Leigh sent their big ball-carriers into space, scoring once through a series of forward drives, then again from long range through their impressive second row with a third coming on the right wing soon afterwards.
With the game at 26-17, Crewe had to work hard to re-establish their dominance and up the intensity.
Debs Sayer and Kayla Hughes worked hard to increase the tempo with Christine Lawson putting in an outstanding performance from flanker to contain the Leigh back-row.
Crewe and Nantwich finally put the game beyond Leigh in the last quarter as
Mollie Latham continued her sparkling form with two tries and an assist.
Perris-Redding posted two more tries to finish the game on four, Millie Jones also completed her hat-trick.
Captain Perris-Reading said: "This was a tough game for us.
"We have not managed to sustain a performance across the full 80 minutes yet, but I'm delighted with how we responded to Leigh's fight-back.
"We played some great rugby and in the last 20 we really looked like the team we are trying to be."
Coach Vicky Irwin said: "As always, lots to work on, but again, a team has tried to strong-arm us and made us work harder, and again we've finished a game really well, so I'm pretty happy with where we are.
"Some tough tests await us but we're in good shape."
Crewe and Nantwich Ladies play Chester Devas on Sunday November 18 at Chester RUFC, 2.30pm kick-off.
(library pic only)