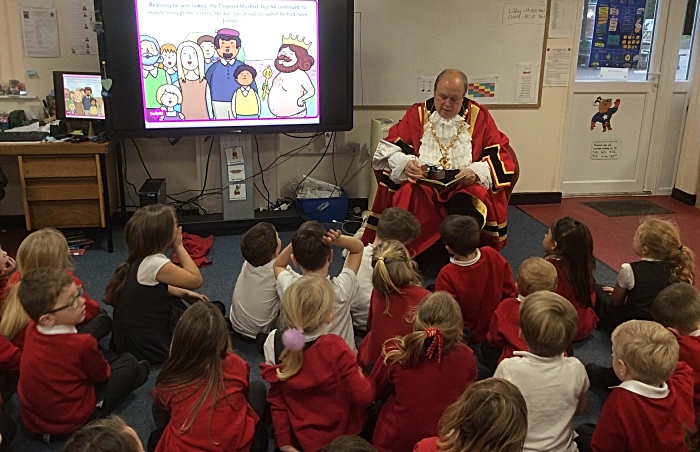 Youngsters at Shavington Primary School were treated to a "mystery reader" in full costume.
Nantwich Mayor Cllr David Marren turned up in full Mayoral regalia and gold chain to read the Year 1 pupils "The Emperor's New Clothes".
Sixty five and six-year-olds enjoyed the visit, organised by Year 1 teacher, Rachael Rivers.
She said the idea of the mystery reader was to "instil a love of books and reading into the children".
Rachael added: "If the children see different "mystery readers" sharing a story with them, I hope they will enjoy listening to stories and they will be keen to pick up books and immerse themselves in a good tale.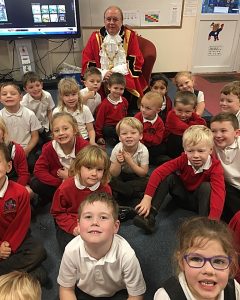 "I believe that children need to hear adults modelling good reading so that they can copy."
Cllr Marren added: "I recently attended Highfields School in Nantwich to formally open the Little Crickets nursery and the new building works and it was immediately obvious to me that the little ones were just fascinated by the Mayoral Chain of office.
"They wanted to touch it and ask questions about it, and I thought to myself then that I wished I'd worn the robe.
"I know my own grandchildren are captivated by the robe.
"When Rachael asked me to be the Mystery Reader I jumped at the chance because learning to read is pivotal and the more exciting and interesting the reading experience is, the more likely it is that children will read and learn to read for pleasure rather than grudgingly out of necessity.
"I think the reading at Shavington went well and was liked by the children."
Any local schools keen to invite the Mayor in can contact support officer Jill Geldart at Nantwich Civic Hall on 01270 628633.