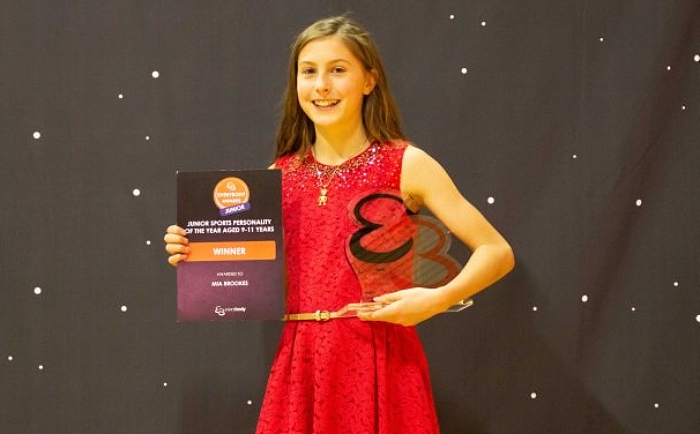 South Cheshire sporting youngsters have been honoured at the annual Everybody Junior Awards.
Children aged 5 to 11 were awarded for their inspirational efforts and contributions to local sporting success in seven award categories.
Youngsters were nominated in Junior Member of the Year, Everybody Swim Rising Star, Junior Achiever of the Year, Everybody Family of the Year, Junior Sports Personality of the Year 9-11 years, Junior Sports Personality of the Year 5-8 years and Junior Helper of the Year.
In the Everybody Swim Rising Star Award, winner was Emily Smart, nine, of Haslington. Also shortlisted were Tallulah Woods, 5, of Hankelow; Izzy Serventi, 9, of Wybunbury; Jack Harmer, 10, of Macclesfield; Zak Newton, 9, of Crewe.
The Junior Achiever of the year went to Daisy-Mae Poolford, aged 7, of Biddulph. The other finalists were Isabella Serventi, of Wybunbury; Heidi Woods, 8, of Hankelow; Arthur Elliott, 9, of Alsager; Herbie James, 11, from Congleton; Emma Lyons, 11, of Hawarden.
Junior Member winner was Jake Alex Coombs, age 6, of Crewe. Other finalists were Bella McKinney, aged 5, from Nantwich; Madison Phillips, aged 12, of Wilmslow; Harrison Bate, aged 9, of Crewe.
Everybody Family Of The Year went to Rebecca Singleton, Andrew, Lincoln and Verity Stafford.
Other finalists were the Woods family from Hankelow (Laura, 39, Paul, 40, Isabella, 9, Heidi Woods, 8, and Tallulah, 5); Rebecca, Gregory, aged 9 and Matilda Wilson, aged 11, from Wilmslow; Jared, Joanne and Rosie Lucas aged 12, from Crewe; and Deborah Kinley & Macauley Smith.
Junior Helper Of The Year was Rubylee Rogerson, aged 11, from Crewe. The other finalist was Sophie Cherrington, aged 9, also from Crewe.
Junior Superstar Award went to Arthur Elliot, who raised an amazing £2,342.50 for his chosen charities by running a marathon a week – or 6km per day!
He is now a member of the Crewe and Nantwich Athletics Club where he finished 4th in the Under 11 North Staffordshire cross country league.
Junior Sports Personality aged 5-8 years was won by Heidi Woods, aged 8, of Hankelow. Other finalists were Lily-Mae Walmsley-Smith, aged 8 from Macclesfield; and Molly Aston-O'Donovan, aged 7, from Nantwich.
And Junior Sports Personality for 9-11 years was won by Mia Brookes (pictured, top), aged 11, from Sandbach. Other finalists were Imogen Stalgis, aged 11, of Willaston; Isabella Serventi, aged 9, of Wybunbury; Chloe Mason, aged 11, of Nantwich; and Jack Harmer, aged 10, of Macclesfield.
Kerry Shea, director at Everybody Sport and Recreation, said: "The Junior Awards were our biggest yet, with children and their families all having a fabulous fun-filled afternoon of awards followed by face painting, smoothie bikes and speed bounce.
"The Junior Awards was a hugely humbling experience for all of us involved, and something that we really look forward to every year.
"Well done to all the finalists and winners!"