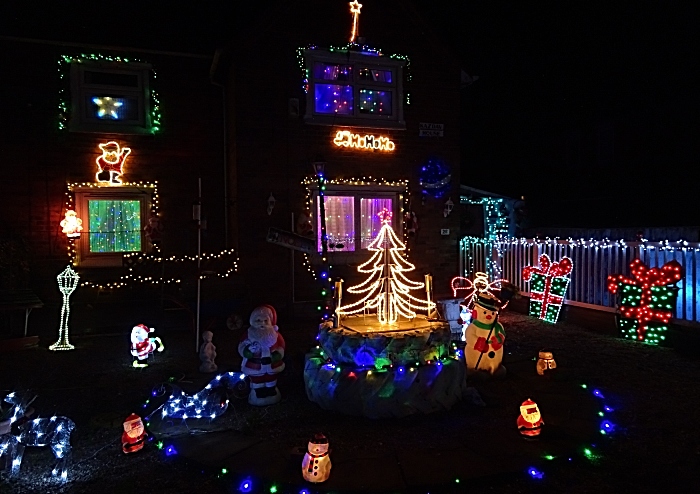 Householders in Crewe and Nantwich have been turning on a light extravaganza for Christmas, as these houses captured by local photographer Jonathan White show!
Families and businesses have been entering the festive spirit with their light decorations.
Jonathan has been travelling around Crewe, Nantwich and surrounding villages to picture the more extravagant outdoor displays.
"I really enjoy the over-the-top Christmas lights and decorations – including the occasional inflatable decoration and light show – that some local residents set up each year," he said.
"Their electricity bills must be sky high, but they never fail to bring a smile to my face!"
Jonathan's personal favourites this year in Crewe are in Alton Street, Broad Street, Carlisle Street, Claughton Avenue, Davenport Avenue, Grasmere Avenue, Jesmond Crescent, Melford Close, Oxley's Funeral Services (Market Close), Salisbury Avenue, and Vincent Street.
"My favourites in Shavington are all in Burlea Drive – well worth a visit," he added.
"And my favourites in Wistaston are in Westfield Drive, Kemble Close, Edgewood Drive, Rope Bank Avenue and Westfield Drive where you can say hello to the gnomes!"
In Nantwich, Jonathan likes the ones on Hawksey Drive and Richmond Nantwich (Village Centre), as well as the lights in the town centre courtesy of Nantwich Town Council.
"I must also give a special mention to the 'Weston Christmas Light Display', which takes place at Carters Green Farm, Jack Lane, Weston, near Crewe every day in December until December 28, 6.15pm to 9pm.
"On the last week before Christmas, Santa Claus will take time off his busy schedule to visit the farm and sit in his 'North Pole' sleigh. Entry is by donation and there is plentiful parking."
For the sixth year running, the Weston event is raising money for The Donna Louise Children's and Young People's Hospice.
To visit the display if heading from Crewe turn right off Weston Road (just after Crewe Hall) into Main Road towards Weston, then left into Jack Lane.
If heading from Weston go over the A500 bypass bridge on Main Road and turn right in Jack Lane. From all directions look out for the reflective road signs, then follow the directional one-way arrows on Jack Lane
For further information relating to the display please visit https://www.facebook.com/westonlightdisplay
View more of Jonathan's local Christmas house photos on his Flickr at https://www.flickr.com/photos/jonathanawhite